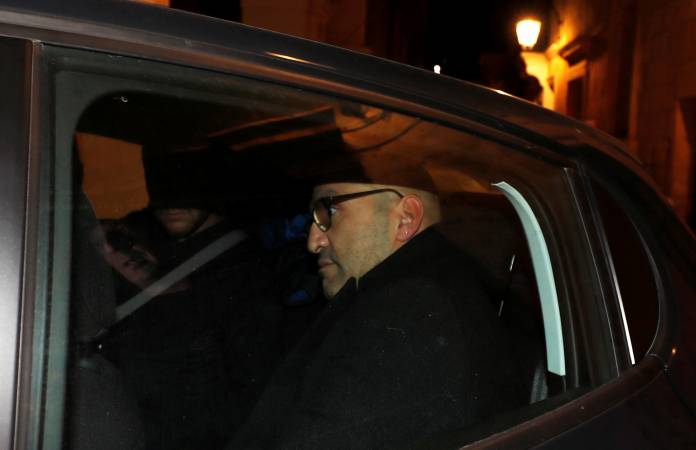 Tista' taqra bil- Malti.
Owner of the Dubai company 17 Black Yorgen Fenech who is currently in custody facing charges of financing the murder of journalist Daphne Caruana Galizia, has filed an application before the Court against the Cabinet, claiming that a breach in the law when his request for presidential pardon in exchange of information was refused.
Fenech has requested a presidential pardon. However, the request was turned down during a late cabinet meeting. Fenech has implicated former chief of staff Keith Schembri in the murder of the journalist.
Lawyers Marion Camilleri and Gianluca Caruana Curran who signed the application, explained on behalf of their client, that Fenech was refused presidential pardon since the Prime Minister decides on such matters and then advises the president. Muscat is a very close friend of Schembri, they explained. They pointed out that cabinet members and others, have worked closely with Schembri for a number of years.
The defence lawyers argued that Fenech has a right to a fair hearing and that his request should be evaluated in an objective, impartial manner without any interference, be it political, personal and any other conflict of interest which may arise. The decision not to grant a presidential pardon to Fenech led to the prejudication of the ongoing murder investigation. In the court application, it is argued that Fenech was forced to request presidential pardon to the Prime Minister to testify against a close friend of Muscat. The same person who Muscat kept close, chose, appointed and defended for a number of years.
Muscat had announced that the government turned down Fenech's request for a presidential pardon. He had said that he did not want to take such a decision alone, and therefore left it in the hands of the cabinet, adding that he did not participate in the meeting.
The suspected middleman, Melvin Theuma, was given a presidential pardon – a decision which the Prime Minister took by himself.
The defence lawyers said that they wrote directly to the President as they are of the opinion that the Prime Minister and other cabinet members have a conflict of interest and should not be involved in any decisions concerning Fenech's request for pardon.
The request for presidential pardon is being made in exchange for information on Keith Schembri, former Tourism Minister Konrad Mizzi, reinstated Minister Chris Cardona and others, all of whom are close to Muscat.
Lawyers Marion Camilleri and Gianluca Caruana Curran are appearing for Yorgen Fenech.