Tista' taqra bil- Malti.
ROTA said, "Infrastructure Malta is only using cycling infrastructure as a pretext to take up more land for road widening without considering the needs of the users for this infrastructure."
The cycling advocacy group said in a reaction to the claims made by the agency that "additional land is also required for a new cycle lane and footpath along the same Bypass, which does not currently have any facilities for alternative modes of travel. "
Rota reiterates that cycling infrastructure is to be as safe, convenient and direct as possible, and what has been designed by Infrastructure Malta falls short of reaching these required attributes.
An infographic was created to show that extra land is not needed to have a safer road.
Back in December 2020, Qormi residents and farmers together with Moviment Graffitti, revealed Infrastructure Malta's plans to build a flyover and reclaim agricultural land in the area.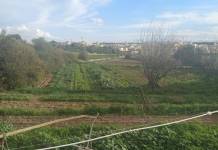 Qormi local council passed a motion to protect the endangered farmland. The council said that the project can damage the rainwater relief that prevents flooding in the area.