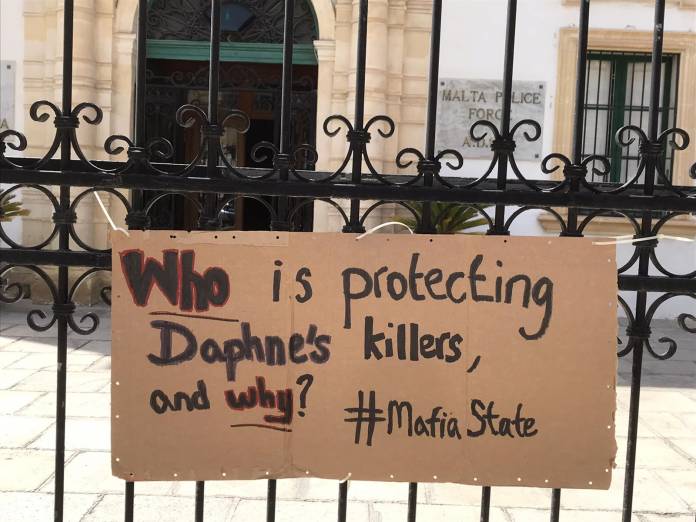 A placard has been affixed outside the Police Headquarters on Sunday, with 'Who is protecting Daphne's killers and why?' written on it.
The placard appeared after local newspaper The Sunday Times of Malta revealed that a newly-discovered recording made by Melvin Theuma, the state witness in the criminal proceedings against the individuals who stand accused with the murder of journalist Daphne Caruana Galizia, may have been tipped off of the impending arrest by former Police Commissioner Lawrence Cutajar.
The Sunday Times of Malta reported that Europol experts have found the unheard recordings on Theuma's hard drive.
Rescind the contract – Repubblika
Rule of law NGO Repubblika called on Prime Minister Robert Abela to rescind the contract awarded to Cutajar following the news. Cutajar was employed by the Home Affairs Ministry as a consultant on public safety and logistics with a €31,000 yearly package, after he resigned from his post as police chief.
Cutajar had stepped down amid repeated calls for his resignation.
The NGO said that while they were of the firm belief that Maltese could investigate the case, the Police Force in its current state, could not investigate the "rot".
Repubblika reiterated its call for the establishment of a Joint Investigation Team to investigate Caruana Galizia's assassination.
"Robert Abela should understand that he is the Prime Minister of the whole country before he is party leader," the NGO stated, highlighting that Abela should face the "corrupt institutions" built by his predecessor, disgraced former Prime Minister Joseph Muscat.