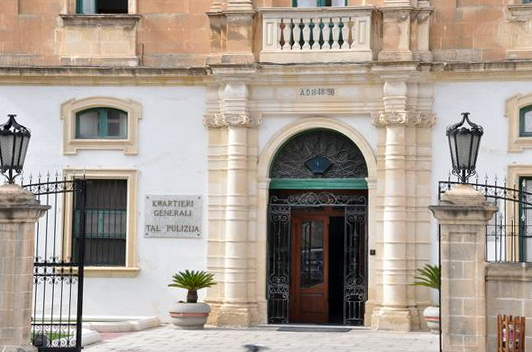 Lawyer Herman Mula who currently is appearing for the Armed Forces of Malta has submitted his application for the post Police Commissioner on Saturday, while others are mulling on whether to submit their application. The application deadline for the police top job closes on Monday.
The Sunday Times of Malta reported the list of likely candidates who have thrown their name in the hat in a bid to succeed Lawrence Cutajar. According to the weekly newspaper, the likely candidates are Angelo Gafà, Herman Mula, Alexandra Mamo, Sandro Camilleri, Robert Vella, Frankie Sammut, Noel Cutajar, Antoine Casha and Raymond Zammit.
Newsbook.com.mt has reached out to some of the candidates to confirm whether they have submitted their application or whether they intend to do so. Not all candidates could be reached.
Dr Mula told this newsroom that he had submitted his application on Saturday. Mula is currently appearing for the AFM officials who are being investigated over the alleged sabotage of a migrant boat.
When contacted, Inspector Robert Vella who is the general secretary of the Malta Police Association told Newsbook.com.mt that while he is considering submitting his application he has not yet done so. He underlined that this was an important post within one of the most important institutions of the country and therefore it was not an easy decision to take. He remarked that there was still tomorrow to make up his mind.
This newsroom also spoke to former Police Inspector, lawyer and academic Mary Muscat. Muscat remarked that she was considering applying, however, the pay associated with the post was not attractive, comparing the salary given to Air Malta's CEO amongst other examples to that offered to the Commissioner of Police. There are several risks associated with the job including threats and personal life risks when one fulfills their duty within the Police Force. Speaking about her personal situation, Muscat, who is a single mother, explained that her daughter is differently abled and expenses tend to run high.
Newsbook.com.mt could not reach the other likely candidates to confirm whether they were considering to apply for the top post.
Deputy Commissioner Casha and Cutajar who had been a police inspector and is currently a practicing lawyer have reportedly told the Sunday Times of Malta that he would not be applying to fill the post.
Applications will draw to a close on Monday. Applicants will be screened by the Public Service Commission and shortlisted to two. The Prime Minister will then put his preferred option to parliament where the candidate will face a grilling and a final vote.
Former Police Commissioner Lawrence Cutajar who served for three-and-a-half years in the Police top job faced a barrage of criticism about the police force's failure to investigate top government officials or follow up on financial crime reports submitted to it by the FIAU. He had resigned after Robert Abela was appointed as Prime Minister. Abela had announced that a new system for selecting police commissioners would be rolled out.