Tista' taqra bil- Malti.
The Police are still investigating the double murder which took place at the victims' residence in Sliema last week.
The Sliema community was shocked when doctor turned investment banker Chris Pandolfino, 58, and art collector Ivor Maciejowski, 30, were shot dead in the townhouse they lived in on Locker Street at around 10.30pm.
The Police arrested a man and seized a gun during a dramatic raid in Floriana on Tuesday. It is understood that the Police are still searching for another two individuals in connection to the murder.
The Police now have 48 hours to interrogate the suspect. A person who is held under arrest by the police for questioning has to be released from custody once 48 hours elapse from the time of his arrest, unless the person is charged in court.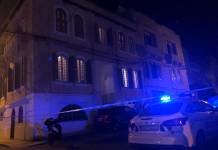 Newsbook.com.mt spoke to experts in the field who commented on the different scenarios and what one can expect from this point onward.
During the police investigation, it is crucial to establish the identity of those who allegedly committed the offence and gather the evidence which shows a link between the individual and the offence. Police have combed through CCTV footage which was lifted from the neighborhood. Through this exercise, the officers got a clear image of the faces of the three suspects. Further, the police have also found the getaway car allegedly used by the three men.
A forensic expert remarked that the investigators were surprised that the getaway car was found in place considered to be relatively public. The source explained that the car could potentially hold crucial evidence. Such evidence would include blood stains both of the victims and the alleged aggressors, finger prints and DNA of those involved.
It is understood that the police is currently busy trying to locate the other two individuals involved.
The forensic expert acknowledged that the suspect's interrogation takes its time, adding that at the same time, the investigators are working on establishing the motive behind the double murder and whether it was commissioned on someone else's behalf.
The interrogation of the prime suspect is considered 'crucial' for several reasons – including the investigation's progress depending on the prime suspect's cooperation.
The double murder is the sixth one since the beginning of the year.