"Trolls and thugs like Neville Gafà are systematically recruited to harass journalists and sap their energy fielding threats online" stated the anti-corruption NGO Repubblika during a press conference addressed together with the Istitut Gurnalisti Maltin.
The press conference which took place infront of the national monument dedicated to the Great Siege which has been used since then as a memorial to the assassinated journalist, Daphne Caruana Galizia, was also addressed by Italian Journalist Nello Scavo who, on Thursday gave his testimony, in the case brought by the police against Neville Gafa.
Robert Aquilina on behalf of Repubblika said that Neville Gafà is not new to threats to journalists.
"He has vilified and threatened many of our own. The day before Daphne was killed, Neville Gafà proudly published photos of her that prove nothing but the harassment, the intrusion, the intimidation and the oppression she lived under till her very last day. And Neville Gafà was an operator of that," stated Aquilina.
Repubbika has reiterated its sympathy and support to Nello Scavo who had to face serious threats merely for doing his job.
Arraigned on a threat
Following sufficient evidence, today, the Police arraigned former OPM official Neville Mario Gafà over a threat he directed at investigative Italian journalist Nello Scavo.
The court heard how the Police had received a complaint from Italian Journalist, Nello Scavo, regarding a comment made by Gafà on Twitter; "stop your dirty business. If not, we will be stopping you."
In court, Scavo said that he felt and still feels threatened by the accused even after he tried to clarify the matter with Gafà. Scavo recalls how, on Twitter, he had asked him what he meant when he wrote "we will stop you" and who is "we". A question to which the accused had not replied.
Scavo says he still feels threatened
The Italian journalist also said that since 2019 he has been under the protection of Italian Police and this year this protection has again been confirmed following the threats posed by Neville Gafà.
"We are living in the time: Shut up so you won't be counted"
IGM President Sylvana Debono mentioned how in 2020 Reporters without Borders ranked Malta in the 81st place in press freedom ranking. She explained how this marks a very large 36-point fall in 7 years.
Debono described Daphne Caruana Galizia as a journalist who had faith, faith in the truth, faith in natural justice, faith in people of common decency. "Daphne had the fortitude born of integrity, of commitment to service, of grounded professionalism," said the IGM President.
Sylvana Debono mentioned how both Daphne Caruana Galizia and Nello Scavo highlight what journalists go through every day; the insults, the bullying and the threats.
"We are living in the time 'Shut up so you won't be counted'. We are living at a time when we are redefining what is right into what is right for me. If I'm all right, Jack, then let the immigrants die, let the crooks plunder and let the murderers get away with it. That is not the life of a journalist," stated Sylvana Debono.
Journalists in Malta face real danger
During the press conference, Repubblika stated that Nello Scavo was working with other journalists in Malta and Italy to investigate the conducts of governments in fulfilling their responsibilities with respect to rescue at sea.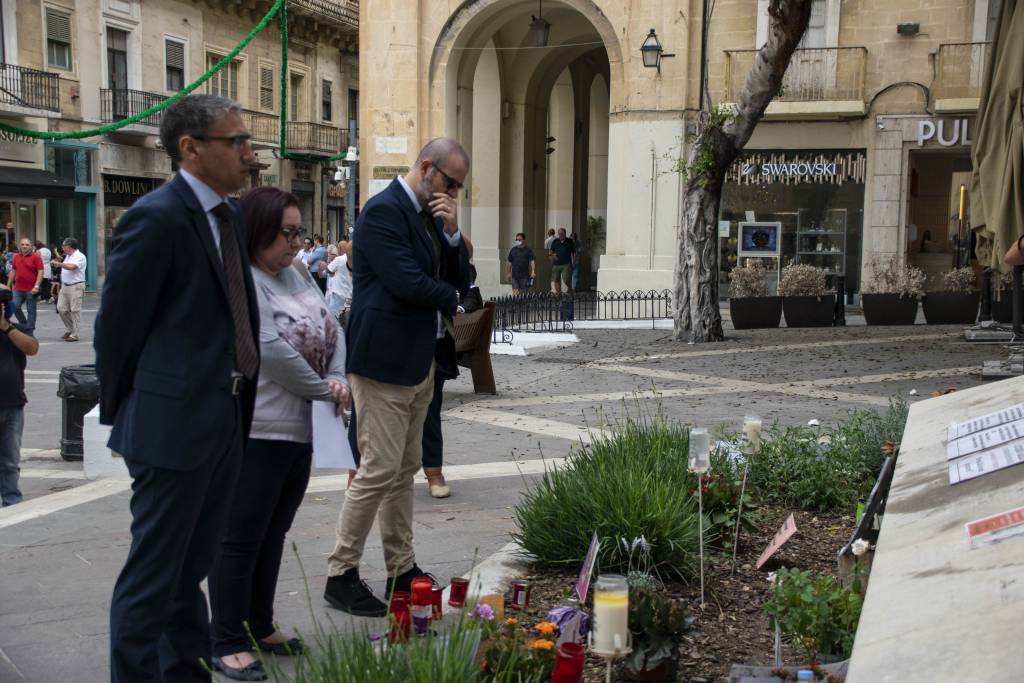 It was also mentioned how journalists in Malta face real danger because if they do their job, as well as Daphne, did, they can fully expect to be killed.
"We will not stand for this. We will stand with the IĠM and with journalists covering crime and politics in Malta. We need them if we are to look forward to a time when we can call this a democracy again," stated Repubblika.