Tista' taqra bil- Malti.
Hundreds gathered in Great Siege Square demanding justice for slain journalist Daphne Caruana Galizia on Monday evening. 26 months have passed since journalist Daphne Caruana Galizia was assassinated outside her family home in Bidnija on October 16, 2017.
The monthly protest vigil organised by Repubblika and Occupy Justice was addressed by activists Rosa Borg and Sandro Rossi, Orsetta Spinola from Libera – Associazioni nomi e numeri contro le Mafie, and journalist Manuel Delia.
"Joseph Muscat and his corrupt gang were elected to serve us, not to use their power to serve themselves"
Activist Rosa Borg was the first to address those gathered in Great Siege. In her speech, Borg said that Prime Minister 'Joseph Muscat and his corrupt gang were elected to serve us, not to use their power to serve themselves'. She opened her speech quoting Primo Levi, an Italian-Jewish chemist who survived the Holocaust.
Addressing the Prime Minister directly, Borg said 'people elected you and tonight, we, the people are here to refuse our consent.' She referred to the Panama Papers in which both then Energy Minister Konrad Mizzi and then-OPM Chief of Staff were named. 'Had you done your duty and removed them, Caruana Galizia would still be alive today,' Borg said.
The activist reiterated calls for Muscat's immediate resignation – explaining that they did not want a Prime Minister who protects criminals.
Judicial appointments, the GRECO report, the Venice Commission report, were among the issues mentioned by Borg. The activist also referred to the incident when journalists who were called inside the Prime Minister's office at around 3am were briefly detained by unknown men.
'Joseph Muscat you have reduced parliament to a rubber stamp,' Borg said. She explained that contracts were approved without anyone knowing their content, Ministers subject to a criminal inquiry, among others.
Activists have been slandered; 'Muscat is ruining our Christmas'
Repubblika's President Vicki Ann Cremona opened the protest vigil saying that 'activists were slandered' when it was reported that they had allegedly disrespected members of the Armed Forces of Malta, the Police and Special Olympics athletes during the outdoor activities held on Republic Day. Earlier on Friday, the NGO sent a letter to President George Vella asking for his protection while journalist Manuel Delia instituted libel proceedings against Partit Laburista's media among others.
Cremona highlighted that specific persons are being subjected to an 'unacceptable level of hate speech' and have received threats. She asked whether the 'lies' were intended to divert attention onto side shows while ignoring important issues. Cremona asserted that Muscat has no right to decide when to leave office since he was leaving because he has lost the people's trust when protecting 'the gang'. He ought to be investigated. Secondly, Cremona pointed out, justice for slain journalist Daphne Caruana Galizia has not been served. 'Daphne had the courage to denounce corruption which pervaded the corridors of power,' Cremona told the people gathered.
'We have no intention of ruining one's Christmas,' Cremona said, adding that Christmas for the Caruana Galizia family was ruined two years ago when a mother, daughter, and sister was assassinated.
'Muscat and his gang have ruined our Christmas when they stayed in Office,' Cremona stated. 'If they want us to enjoy Christmas, then he should step down with immediate effect and the Police should investigate him and his gang,' she concluded.
'It is essential to kindle the flame for truth and justice' – Sandro Rossi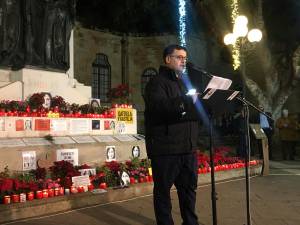 Activist Sandro Rossi was next to address the crowd on Monday evening. He referred to the protests which intensified over the last weeks, when progress was made in the murder investigation prompting resignations. 'What we have seen over the past weeks is resistance against that which is dirty, corrupt and bloody,' Rossi said. He noted that Maltese were finding the courage to speak up and say the truth, while they denounce that which is wrong. 'They tried making us believe that the Maltese is essentially a pirate,' Rossi told the crowd. While acknowledging that in history one could find examples when immoral economic activities were tolerated, he urged those gathered to look at such instances through an objective and critical lens.
Rossi reminded how Malta was once referred to as 'the nurse of the Mediterranean' as well as other contributions on an international level.
'It is though as if, those who govern the country have forgotten the meaning of dignity, decency and legality, but above all, have forgotten the meaning of humanity,' Rossi said. He listed a few examples which included the medical visas scandal as well as the latest where 22 children risk being separated from their families.
'A textbook case of state capture'
In his address, Rossi referred to the sworn testimony in court given by the self-confessed middleman Melvin Theuma who was granted presidential pardon. Rossi explained that despite such revelations, supporters of Partit Laburista were still cheering outgoing Labour leader Joseph Muscat. He blamed such behaviour on party media which was used as a propaganda tool. He also spoke of the online trolls who continue disinforming and misinforming the public.
'What is yours by right, you end up begging for,' Rossi said. 'This is the relationship between the 'Godfather' and those who live under the rule of mafia'.
'In a true democracy, no power is absolute,' Rossi said. He added that 'no one has the divine right to trample upon someone else's rights even if this happened to be the minority'.
'It is essential to kindle the flame for truth and justice. This is a time of awakening, a time for protest, a time for resistance,' the activist said.
'We will be the change we want to see in society' – Orsetta Spinola
Orsetta Spinola who is a member of CHANCE: Civil Hub Against organised Crime in Europe which is a network that is supported by Libera – Associazioni nomi e numeri contro le Mafie.
Addressing the crowd, Spinola said that the signs that corruption and organised crime has pervaded a society were not difficult to guess or spot.
'Finance, real estate, gaming and cryptocurrencies are totally legitimate and functional industries,' Spinola said, 'if the infrastructure development, administrative and normative regulation and enforcement develop at the same pace.' She warned that when such sectors were poorly regulated, this gave rise to tax evasion, bribes, corruption, money laundering and human trafficking among others.
She observed that while they have been calling for 'a deep clean-up' one has to keep focused, warning that 'once such a clean up occurs, it would be easy to return to the status-quo if they fail to change their habits'.
Spinola explained how corruption affects people during their daily lives.
'Let's be frank: corruption and crime also happened because we were not prepared to counter it,' Spinola told those gathered. Remembering Caruana Galizia, Spinola reminded that the journalist was very aware of the situation and paid the ultimate price.
'Caruana Galizia was stalked, persecuted, isolated, deprived of her privacy and demonised,' Spinola stated.
'Do we want to honour Daphne's memory? Let's stand up and be counted!' Spinola said.
The activist called on for the establishment of a fund to support those who are 'blackmailed with fanciful lawsuits' and the setting up of civil society groups to monitor the performance of administrations.