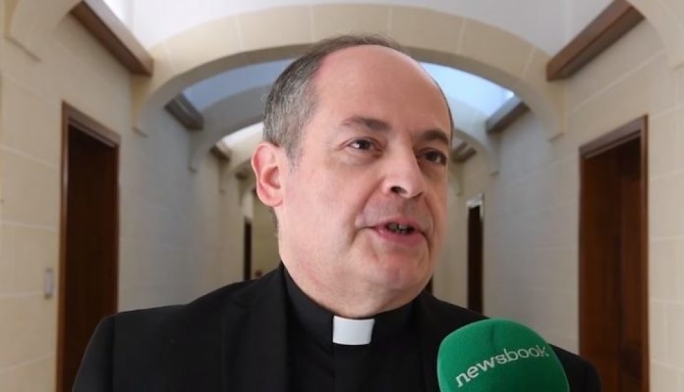 Tista' taqra bil- Malti.
Auxiliary Bishop Joseph Galea-Curmi underlined the need to reach out to those people who are alone. Due to the coronavirus outbreak in Malta, the public has been advised to avoid going out at the same time a new legal notice was introduced which prohibits public gatherings of over 3 individuals who are not from the same household or family.
Speaking during an interview on Newsbook Hour aired on 103 FM – Malta's Heart, the Auxiliary Bishop appealed to the faithful to carry on praying at home.
Newsbook.com.mt is broadcasting daily morning mass at 9:30am and mass followed by the rosary at 5:30pm.
Bishop Galea-Curmi urged the public to reach out to others especially those who are suffering from loneliness and the elderly. He remarked that one can use social media to keep in touch with one's loved ones.
He referred to a woman who went to see her mother by standing on the street outside a retirement home.
Maltese abroad are watching Mass in Maltese
Auxiliary Bishop Galea-Curmi remarked that the daily streaming of Mass in the Maltese language is being viewed by the Maltese diaspora. He received a message from a Maltese family who lives in Belgium and have remained there since their daughter is due to give birth. He noted that the diaspora was taking the opportunity to follow mass online.
Another person reached out to Mgr Galea-Curmi to thank him for the initiative since they had not listened to mass in the Maltese language.
The liturgical celebrations during the Holy Week will be livestreamed. During the month of April, Archbishop Charles Scicluna will be celebrating mass everyday. Due to the conditions imposed on gatherings of people, which also affected liturgical celebrations, the mass will be streamed on Newsbook.com.mt, Knisja.mt, and TVM2.
If you want to be the first to receive the latest news on the coronavirus in Malta, download the Newsbook APP here.