Tista' taqra bil- Malti.
A group of sailors from Malta Young Sailors' Club recently focused their attention to windsurfing – a sport, which had reached its height of popularity in the eighties and nineties. Encouraged and assisted by Olympian Jean Paul Fleri Soler, who is very present in the local sailing scene, regular training started taking place.  
This activity subsequently led to the development of a two-day windsurfing festival which was held between the 8th and 9th August in St Paul's Bay. 
The Yachting Malta Windsurfing Festival attracted a good mix of veterans and rookies. Amongst the veterans taking part were the Fleri Soler siblings – Jean Paul and Mark, Albert Fenech and Ray Agius Condachi. The younger participants saw the likes of Zach Zammit, Karl Miggiani and Benjamin Vassallo.
Participants were divided into four classes – Long Board Open Class, Windsurfer LT One Design Class, Slalom and Beginners class – the latter class was open to those with less than two years windsurfing experience. Sailing took place on a triangular course for long boards, LT Class (One Design) and Beginners.
The Juniors' category provided some very competitive and enthusiastic racing.  The participants, under the watchful eye of Jean Paul Fleri Soler, competed in a total of three races.  Benjamin Vassallo emerged winner of this class.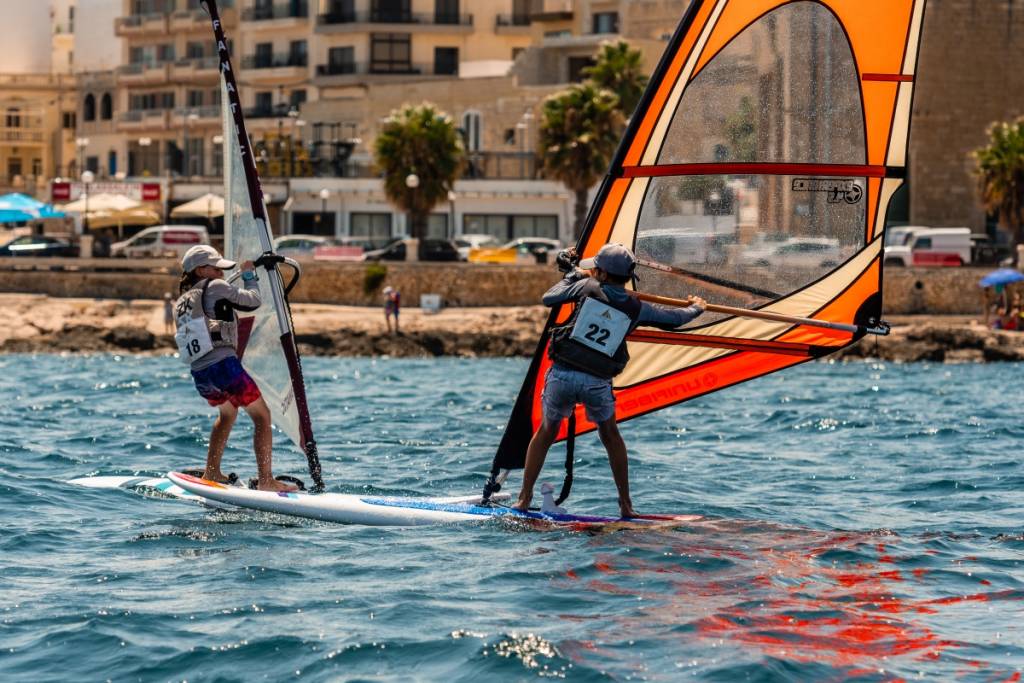 Zach Zammit was the clear winner of the Slalom Class. Unfortunately, wind conditions on Sunday prevented more races to take place.
The Long Board LT Class saw the largest wave of participants who raced a total of eight races. Despite not having competed for over two decades veteran Jean Paul Fleri Soler gave a demonstration of his expertise and dexterity. Together with his brother Mark, they showed that surfing still remained well and truly in their blood.
Due to wind conditions not favouring the short boards, this category saw three races taking place.
"It has been around 22 years since I last raced. This weekend brought back some very nice memories of being out on the water. It was great to see some old timers' race with the newer generation of windsurfers. The idea was to have fun but also to start reviving the sport in Malta," said Jean Paul Fleri Soler – Long Board Class winner.
The final event of the weekend was the Freestyle category, which saw Jean Paul Fleri Soler, Mark Fleri Soler, Albert Fenech and Robert Fenech take part. Once again Jean Paul Fleri Soler showed his prowess to win this class.
Trophies were presented to the winners by John Huber, Chairman of Yachting Malta, who lauded the efforts of the Malta Young Sailors Club for bringing this initiative to fruition. He also expressed satisfaction at the successful collaboration between Yachting Malta and MYSC. He reiterated Yachting Malta's commitment to supporting competitions of this nature which could possibly lead to international events in the near future.
Wrapping up the weekend was Karl Miggiani, one of the event's organisers, who explained that the enthusiasm shown by those present resulted in the plan to have four events per year. He concluded by thanking Yachting Malta and the St. Paul's Bay Local Council for their support.
Malta Young Sailors also announced that a donation to Zibel, a voluntary organisation and NGO focused on environmental education, will be presented shortly.
Yachting Malta Windsurfing Festival Results
| | | | | | |
| --- | --- | --- | --- | --- | --- |
| | Junior Class | Long Board | Long Board (LT) | Slalom | Freestyle |
| 1st | Benjamin Vassallo | Jean Paul Fleri Soler | Mark Fleri Soler | Zach Zammit | Jean Paul Fleri Soler |
| 2nd | Timmy Vassallo | Owen Sultana | Kurt Casapinta | Saul Vassallo | Albert Fenech |
| 3rd | Jonas Micallef | Shaun Miggiani | Robert Fenech | Lucas Swan | Mark Fleri Soler |
Videoby emvigee pr & marketing / Andrea Azzopardi