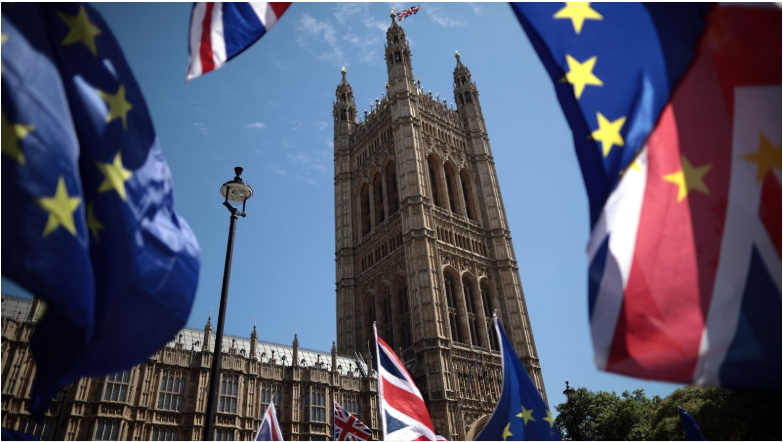 Following a last-minute dash to Strasbourg, ahead of Tuesday's crucial vote on the UK Brexit deal, PM Theresa May still faces a bleak scenario as Labour insists that the last minute updates 'change nothing'. While 10 Downing Street seems to be girding itself for a massive Commons defeat, observers say it could run into the three figures, Attorney General Geoffrey Cox will be issuing a formal opinion shortly on the amendments May came away with a few hours ago.
It may well be the last call for May as she has somehow managed to change game-over into 'continue', a few hours ahead of the crucial vote on the Brexit deal which will seal Britain's political future for the foreseeable future. Late Monday night, May announced 'legally binding' changes to the Brexit deal to ensure that the crucial Irish backdrop will not be permanent. However, it is yet to be seen if this is anywhere near far enough for the Brexiteers.
Read Also: Updated: B-Day: Mayday for the deal may go unheeded
Political observers speaking to the major UK newslines reported that the May concessions are nowhere near what is required by the Brexiteers. On the other hand, given the instability of a no-deal Brexit, many MPs may have been looking for a step-stool to climb down from their anti-May Deal stance. Certainly, these concessions do not set a time limit on the backstop and no end date is in sight for that, so far. The EU has, so far, been adamant on that.
The backstop has not been junked, as the DUP were asking for. It is still a crucial part of the agreement and there is no unilateral lever the UK can pull to bring it to an end.
May has however, seemingly cobbled a way out of sorts – a legal assurance that the UK can trigger an arbitration process at the United Nations, if it was felt the EU was trying to make the backstop arrangements indefinite.
Read Also: Britons prepare as Brexit uncertainty sweeps the country
The motion that MPs will vote on at 7pm tonight states that this "reduces the risk the UK could be deliberately held in the Northern Ireland backstop indefinitely".
The joint "instrument" agreed last night also commits both parties to "work speedily" on alternative arrangements to be in place by the end of 2020 so the backstop does not need to be triggered.
Brexit Timeline