I meet Leila Scott just outside her house, which also doubles as an animal sanctuary, after a grueling car journey which involved loads of Christmas traffic as well as a wrong turn – thanks phone GPS! – which resulted in me going up a muddy dirt road which transpired to be a dead end (thank goodness I drive a small car or I wouldn't have been able to turn around).
Leila comes out to welcome me together with her gorgeous beagle Evie who is very excited to see me (the feeling is mutual). After a few doggy cuddles, we walk back to the house, as Lelia explains that she adopted Evie about three months prior from her previous owners who had no choice but to keep her shut up in an apartment all day.
We get to the Sunshine Animal Sanctuary and I am greeted by not one but two pot-bellied pigs, Trixie and Sergeant. Trixie is super-friendly and nuzzles my hand and lets me pat her. She also nibbles at one of my shoes but I forgive her as she is so cute. Sergeant is a bit more reticent, which is unsurprising seeing as he has had a sad past.
"Sergeant was found on the loose wandering round Mosta," Leila tells me, "We're not sure if he was abandoned or just ran away. Animal Welfare helped to catch him and was going to be sent to the abattoir but we managed to convince the authorities to let us get him chipped, neutered and registered. When we found him, he had numerous gunshot wounds. Now he is safe and happy and best friends with Trixie. They are so easy to live with; it took me three days to toilet-train them – less time that it took me with Evie!"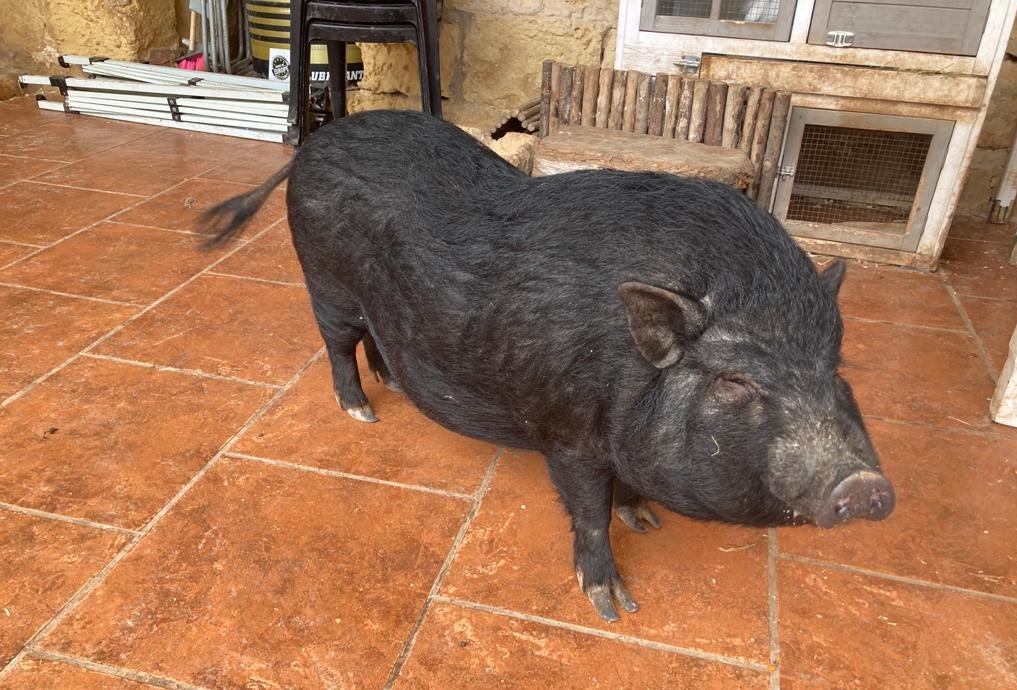 The NGO's vision is to be a haven for all animals to live out their days in a safe, peaceful and loving environment. Originally from the UK, Lelia has been living in Malta for the past six years and she is determined to make a difference in the lives of animals – especially farm animals – here.
Leila disappears for a few seconds so I take the opportunity to pat Trixie some more. When she returns, she is holding Cluck Norris – a rooster that was rescued from a house which was the site of an infamous case of animal cruelty earlier this year. A Maltese black and bantam mix, Cluck is now living the life of Riley, free to roam around the sanctuary as he pleases.
Finally, I get to meet the rabbits – most of the ones you see in the video are for adoption, against a small donation. Marley was the first bunny to be adopted by Leila at the age of four months. He and Monty, the second one to be adopted, are inseparable. They are both curious, affectionate… and very, very fluffy.
In 2021, Leila's wish is to expand the sanctuary to allow her take in more animals, especially those who had painful start in life or who would otherwise would have been sent to slaughter, and also to be able to organise more educational talks, especially for children. To this end, she will be renting a piece of land just outside the sanctuary as from January to have more space and make it habitable for more rescue animals.
"Children don't have the opportunity here in Malta to interact with animals such as chickens and pigs,and even rabbits," she says, "so I think it's really important that they have that interaction and know the stories of each individual animal… we just want to educate children and make them into more compassionate and empathetic individuals and help them help animals in their own way in their daily lives."
The sanctuary will be holding an Open Day soon where people can meet the animals and make a donation if they'd like to, so do keep an eye out for more information about this on their Facebook page.