Tista' taqra bil- Malti.
Prisoners in circumstances indicating a high risk of suicide should not be left alone, insisted Criminologist Sandra Scicluna.
Scicluna, senior lecturer in the Department of Criminology within the Faculty for Social Wellbeing: Strengthening of Society, was being interviewed by Andrew Azzopardi, who also serves as dean of the same faculty, in the first edition of his new programme station broadcast on 103 Malta's Heart.
She remarked that there are certain situations which criminologists describe as being high-risk, such as the moment a person begins to serve his or her sentence. Other situations that indicate a high risk of suicide are cases where someone receives bad news, where a prisoner commits self-harm, and where they start to discuss suicide.
'At least 3 indicators that prisoner was in high-risk'
Although she recalled that suicides in prison have always been a reality, it is clear that there has been a disturbing increase in their number.
The criminologist referred to the most recent case of suicide in prison, that of a 57-year-old man who was expected to be extradited to the United States accused of sexual abuse of minors. In this case, Scicluna added, there were at least three indications that it was a high-risk case: he had just been jailed, was facing extradition, and was charged with a felony that brings shame.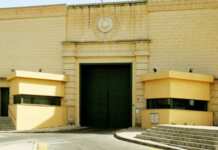 Because of all this, she said, he had to be placed under observation, and not left alone all night.
For his part, Azzopardi said he was informed that while the Corradino Correctional Facility has an observation room, it is currently being used for other purposes.