Nine months ago, Kylie and Clive Maurin made a big decision that would change the life of their son – and that of their family as a whole – for the better.
Six-year-old Kayden, who is on the autism spectrum, was always telling his parents that he wanted a dog. So the family went down to the MSPCA in Floriana and, after several visits, Kayden was 'paired' with the gorgeous Bettina.
"They instantly fell in love," Kylie told Newsbook.com.mt, "Bettina changed his life completely. My son wasn't really speaking so much before, but ever since we got her, he started speaking a lot; he started to express himself."
Although Bettina is not a trained service dog, Kylie said that simply having her around has made her son very happy, apart from having made him more verbal and self-confident.
"Our lives definitely changed for the better. Even during COVID, thanks to Bettina, Kayden was happy; they were happy together," she smiled, "They are best friends, inseparable."
Karolina Sobczak completed her studies in animal physiotherapy and veterinary assistance in Poland and is currently working at the MPSCA. She explained that society aims to rehome as many cats and dogs as possible.
"They come from many different backgrounds, some have been abused, some of them had owners who decided that the did not want to keep them anymore, many of them are abandoned as their owners are moving to non-pet-friendly apartments," explained Karolina, "It is very sad that these animals are losing their homes and have to move to a very different environment. So we try our best to make them feel at home, even though it will never be the same. We also try to find them adopters as soon as possible so they will be less stressed."
Each prospective adopter is given an interview to make sure they are matched with the right cat or dog. The MSPCA also visits them at home to make sure the living quarters are suitable for an animal.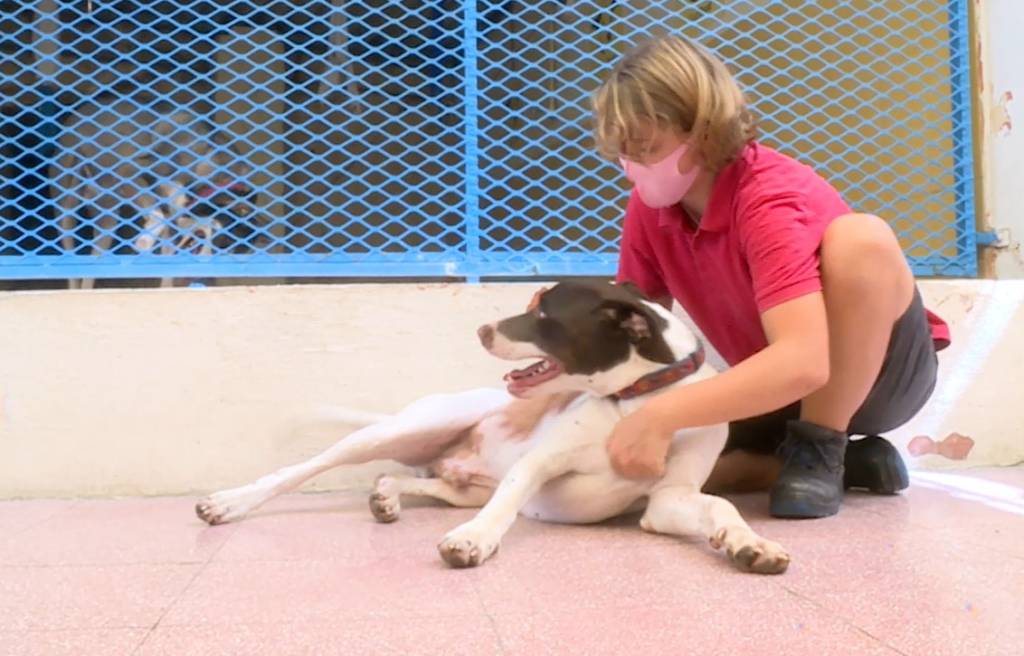 Among the dogs we met at the MSPCA was Frodo – a super friendly dog who loves to go for walks. He is good with children and loves to run around and play with humans, especially when they have treats. Pasha, on the other hand, is looking for 'employment' as a security dog where he can have some soil for burying bones (and maybe an intruder or two!) He loves cuddles and is a free spirit. Mina also loves human company. Her favourite part of the day is when she plays water games with her MSPCA carers. Gingi, who has heterochromia – two different coloured eyes (perhaps he should have been called Bowie!) – is smart, strong and playful. Taz did not have the best start in life – he was found roaming in the streets with bite marks all over his body – so he gets scared around people and needs time to trust humans again. However, he is recovering well and will hopefully find his happiness again with a loving family.
During our visit, we also met quite – and cuddled – quite a few beautiful cats and kittens (yes the Newsbook crew enjoyed their afternoon out very much, thank you!)
If you are thinking of adopting a dog or a cat, you may find information on how to do so on the MSPCA website.
Details on how to donate to the MSPCA maybe found here. The MSPCA also have a number of charity shops in Malta, where all proceeds go to the animals' upkeep.
Filming & editing by Sarah Salafia
Have you adopted a dog or cat who changed your life?
Let us know in the comments below or send an email to: info@newsbook.com.mt