More than 400 indigenous tree saplings have been planted in a new grove that connects Valley Road, Msida to Regional Road in the same locality.
On Friday morning, Infrastructure Minister Ian Borg, Infrastructure Malta CEO Fredrick Azzopardi, Dr Charles Grech, members of Msida Local Council and other officials visited the new grove.
A total of 459 tree saplings were planted in the new grove which is about 1,200 square metres in size. Among the species planted, one may find the evergreen shrub, the bay laurel, the date palm, Judas tree, the Mediterranean Willow, and Hawthorns, among other species.
Addressing the press, Minister Borg explained how the project was announced a year ago. Describing the project as a "good" initiative by Infrastructure Malta, Borg explained that the work was a coordinated effort between Infrastructure Malta, the local council and an expert appointed by the government agency. Borg explained that this was not a "one off" initiative. He noted that in this year's first month, already 1,000 tree saplings were planted.
"We need to continue investing in infrastructure and efficiency," the Infrastructure Minister said on Friday morning. He added that this was "what the people wanted".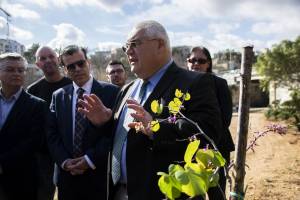 Dr Charles Grech showed the media around, detailing different aspects of the species chosen for the area.
Replying to questions by Newsbook.com.mt, about how long will it take for the saplings to mature, Dr Grech said that the most important thing was that one planted the tree. In his opinion, the tree saplings will take about five years before it starts maturing and tree canopy starts closing. He underlined the need for taking care of the grove, including adequate watering of the tree saplings. Dr Grech highlighted that the different tree species will mature at a different time.
Speaking about tree planting, Dr Grech underlined the importance of planting indigenous trees which help in creating an ecosystem around them. The conservation of trees is just as important as conserving the area where the trees are planted, Dr Grech explained.
Video: Miguela Xuereb