Minister for Gozo Clint Camilleri accepted the JP2 Foundation's invitation to lay a floral laurel wreath on the bronze National Monument of Pope Saint John Paul II on the road to Ta' Pinu in Victoria.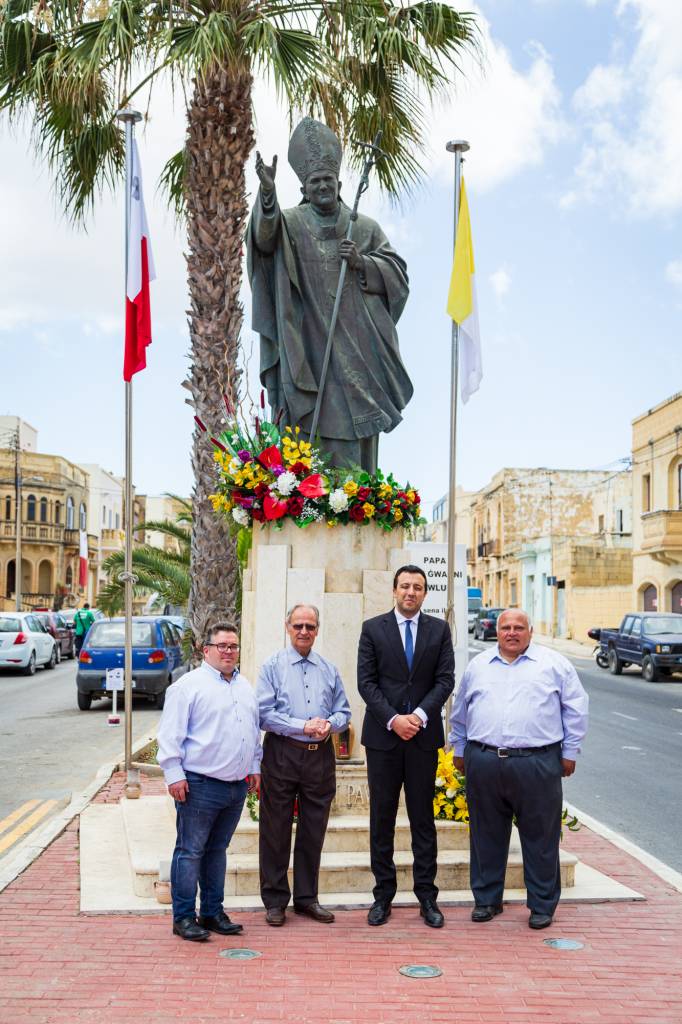 This gesture took place on the 27th May 2020 to commemorate the 30th anniversary of the pastoral visit by a Pope to Gozo and also to commemorate the 100th anniversary of the birth of Karol Józef Wojtyła which took place on the 18th May.
The Minister promised all possible assistance to the foundation, which expressed its desire to give a proper face-lift to the slope in Victoria where this monument, the work of the Gozitan sculptor Chev. Alfred Camilleri Cauchi, stands.
The Prime Minister expressed his wish to be present but regretted that he could not attend due to other commitments in Malta and promised that in the future he would also come to pay his respects at the national shrine of this Pope.
The foundation has long been working on a program of activities to commemorate these two events in the life of this great Pope but everything had to end abruptly due to the unexpected outbreak of the coronavirus. It is intended that when matters become clear, the Foundation will once again embark on a number of cultural and religious activities to properly pay tribute to this long-serving Pope on Peter's chair.
Two first day cards also issued
To commemorate the occasion, the JP2 Foundation has also issued two first day cards.
The first card shows photos of the life of Pope John Paul II before and after becoming Pontiff while at the back of the card one can find the information referring to the postal rubber stamp carrying the date of 18 May 2020, the 100th birthday commemoration.
On the second card is a photo of the national monument dedicated to Pope Saint John Paul II which is found on the road to the Basilica of Our Lady of Ta' Pinu. On the reverse side, a collection of photos highlighting the Pope's visit to Malta and Gozo.
These cards commemorate the date of his historic visit and carry the postal rubber stamp of 26 May 2020, exactly 30 years after his visit.
A numbered limited edition of the aforementioned cards are for sale to those that are interested, especially those who are philatelic collectors. For more information, you may send an email on jp2foundation@gmail.com
This content was supplied by the JP2 Foundation