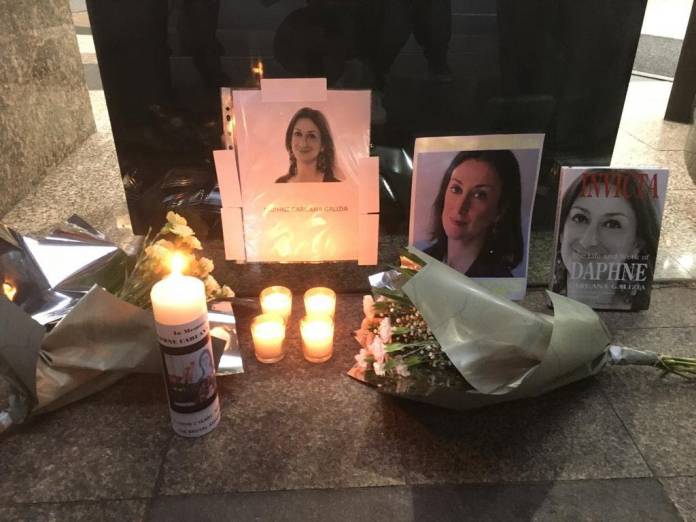 Vigils commemorating the second anniversary of the murder of Maltese journalist Daphne Caruana Galizia are taking place in cities across the world.
A vigil is currently being held in the Belgian capital Brussels, outside the Residence Palace. The Committee to Protect Journalists, the European Federation of Journalists, the International Federation of Journalists, and the Observatory for the Protection of Human Rights Defenders, are organising it.
In Berlin, a vigil will be held outside the Maltese Embassy, organised by the European Centre for Press and Media Freedom and Reporters without Borders Germany. The vigil will take place at 6.30PM. The intention is to call on the Maltese authorities to, 'reiterate the call on the Maltese government for an impartial and independent investigation into her death.'
In London, the media rights NGOs; PEN International, Reporters Without Borders, Transparency International, Index on Censorship, Article 19, Association of European Journalist and Rory Peck Trust, will be holding a candlelight vigil at Challoner Hall in Golden Square. The vigil takes place at (7PM Local time) 8PM Malta time.
A vigil has already taken place outside the Maltese Consulate at at Saint Martin Tower in Sydney Australia. This took place at 6PM (local time)
Remembrance in Malta
3PM – A silent gathering will be held in the field in Bidnija where the car-bomb that killed Daphne Caruana Galizia exploded.
6PM – A special Mass will held at the St Francis Conventual Church, Republic Street. The Archbishop's delegate Fr David Cilia and the founder and leader of Libera dalle Mafie, Don Luigi Ciottti, will lead the Mass.
7PM – A march will held from Pjazza Teatru Rjal in Republic Street. The demonstration will then morph into a demonstration which will be held outside the law courts in Republic Street Valletta. RSF director Rebecca Vincent, former European Parliament president Antonio Tajani, MEP Ana Gomes and Vicki Ann Cremona, president of Repubblika, will be giving speeches.
October 16th
Today marks the second anniversary since the assassination of Maltese investigative journalist and blogger Daphne Caruana Galizia.
Since October 16th 2017, those accused of carrying out the murder have been arrested and are set to face a preliminary hearing at the end of this month. However, little action has been taken to investigate whom masterminded the murder until the past few months.
Bowing to pressure from the European Union and a Council of Europe report calling for an investigation, the Maltese government announced a public inquiry into the murder.
Read more:
Daphne assassination: identified suspect still unquestioned – STOM
Watch: Men filmed destroying Daphne Memorial
Why is the AG not securing evidence? – Omtzigt
Preliminary hearing for Daphne accused starts October 31st
The public inquiry has already faced criticism from rule of law NGOs and others who do not see it as independent and impartial as is requested.
Caruana Galizia is famed for her reports uncovering corruption within Malta's political sphere and publishing them both in the press and through her blog 'Running Commentary'.