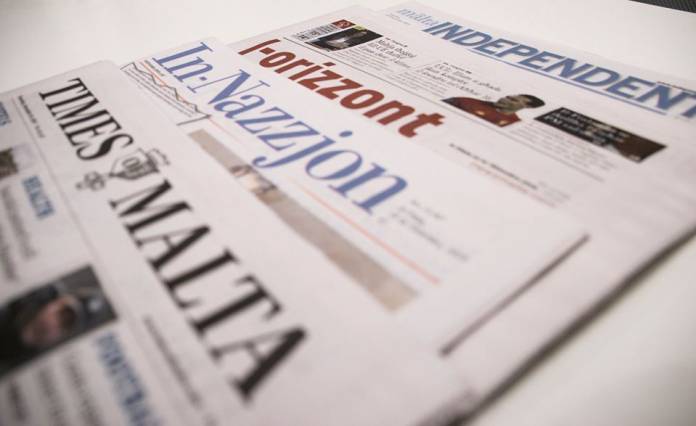 Good morning,
These are the headlines from Malta's newspaper frontpages.
The Times quotes a study of the impact of the coronavirus on metal wellbeing commissioned by the Richmond Foundation. Almost half of the participants say they feel depressed most of the time and experience a sense of apathy throughout the crisis.
The Independent quotes Health Minister Chris Fearne who said that a national survey is being conducted to establish the number of Covid-19 infections in the community. The results will guide the decision on whether masks in public will be made mandatory.
L-Orizzont quotes Prime Minister Robert Abela who said that the decision to close the ports to rescue ships and non-registered vessels was triggered by a necessity to safeguard the country's health during these "extraordinary times".
In-Nazzjon reports that a 38-year-old man lost his life in a motorcycle accident in Mrieħel on Easter Sunday. The rider, Alex Borg, was involved in a crash with another vehicle and the case is being investigated by duty magistrate Josette Demicoli.
The Independent follows the daily update by the Public Health Superintendent who said that eight new cases were reported by Sunday while another 28 patients have recovered. The total number of confirmed cases in Malta now stands at 378.
In-Nazzjon says some of the 44 Covid-19 patients who have been confirmed as recovered are being kept in quarantine by authorities to monitor their health condition. Meanwhile, 23 swab tests at the Ħal Far migrants centre returned two positive cases.
L-Orizzont says that more than 17,000 swab tests have been conducted by health authorities since the start of the epidemic. Between Saturday and Sunday, 1,041 people were tested at the swabbing centres.
The Times reveals that Malta requested the help of the US to implement Moneyval reforms and avoid falling into the non-compliant category. The preliminary results published last September gave Malta just over a year to make sweeping changes to fight money laundering.
L-Orizzont claims that Malta is eligible for up to €500 million in loans and guarantees issued by the EU as part of the support package agreed by the member states. The paper says Malta is usually allocated one per thousand of EU grants.