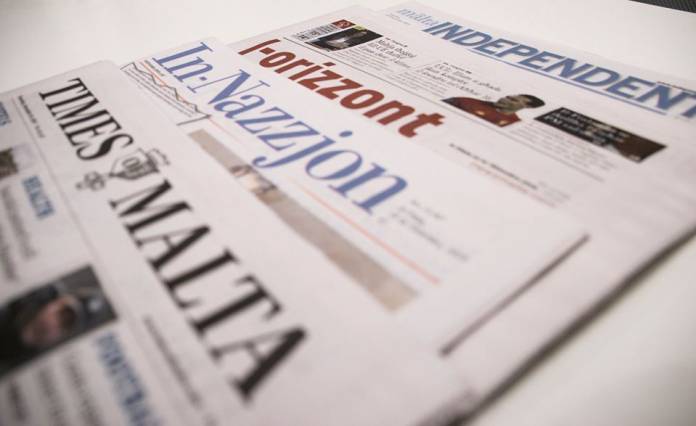 These are the today's stories on Malta's newspaper front pages.
The Times leads with the resignation of Opposition MP Marthese Portelli from parliament. She announced her decision in a social media post on Thursday where she said she would "cherish" her seven years in the House but did not offer reasons for her decision.
In-Nazzjon quotes PN Leader Adrian Delia's reaction to the resignation of Marthese Portelli from MP. Delia praised Portelli's contribution to the party and said that people always knew where they stood with her.
The Independent reveals that a new police inspector and 12 officers have been recruited by the traffic police unit to alleviate the shortage. The sector lost more than three-quarters of its 50 members since details of the overtime scandal emerged.
In-Nazzjon says that authorities have investigated 22 cases for coronavirus so far but all of them tested negative. The paper says that a national helpline set up to inform and answer questions receives around 3,000 calls a day.
L-Orizzont says that people are angered by the rising prices of hand sanitizers following the international outbreak of the coronavirus. The people spoke to an employee at a pharmacy who said that prices have been revised by wholesalers, not pharmacies.
In-Nazzjon reports on the sacking of Labour Party CEO Randolph Debattista by party leader Robert Abela. The paper says that Debattista was close to deputy leader Chris Fearne and the decision exposes a split within the PL.
The Times says that employers are seeking government help to finance a 14-day self-quarantine recommended by authorities for employees returning from covid-19 hotspots. The paper says that there is uncertainty over whether this period qualifies as sick leave.
The Independent speaks to lawyer and former police inspector Mary Muscat who warned against turning the appointment of a Police Commissioner into a 'public spectacle'. She said the right candidate must perform well in the job not in a televised public grilling.
L-Orizzont quotes Infrastructure Minister Ian Borg who said that the Grand Harbour Clean Air Project is attracting the interest of international stakeholders. The €50 million project will provide shore-to-ship power reducing vessel emissions by up to 90 percent.