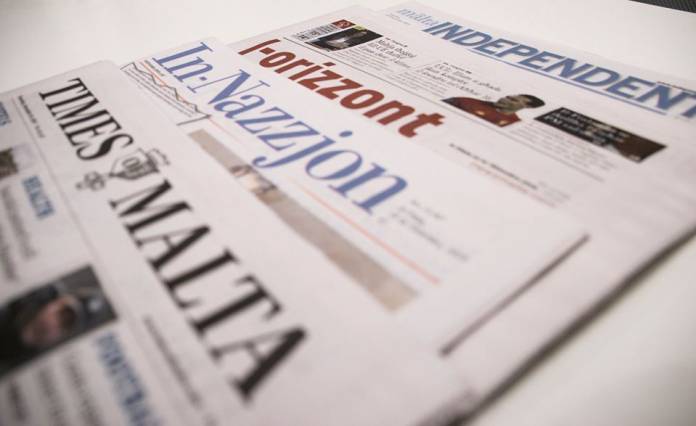 Good morning,
These are today's newspaper front-page stories reviewed.
The Malta Business Weekly quotes Public Health Superintendent Charmaine Gauci who said that a case of Kawasaki disease has been reported in Malta. The disease, which is thought to be triggered by the Covid-19 virus, affects mainly children under five years.
The Independent publishes an interview with Union Ħaddiema Magħqudin CEO Josef Vella who urged the government to cancel the agreement with Steward Healthcare and use the subsidies to support household costs instead.
The Times quotes Finance Minister Edward Scicluna who told social partners that Malta's GDP is forecasted to fall by 5.4 percent this year before rebounding by 3.9 percent in 2021. Scicluna revealed that 80 percent of the IIP fund is being used to soften the economic blow.
L-Orizzont says that the government rescue schemes are planned to remain in place until the end of 2020. Finance Minister Edward Scicluna told the paper that state assistance will still be available for businesses after they start to re-open.
In-Nazzjon says that parliament will, this evening, vote on a motion filed by the Opposition Leader requesting the cancellation of the hospitals deal with Steward Healthcare. The Nationalist Party said MPs will show whether they are on the side of Maltese people.
The Independent reports that the government MP Chris Cardona will step down from parliament but stay on as the Labour Party deputy leader for party affairs. The PL thanked the former Economy Minister for his service.

The Times says that the former PN mayor of Lija Ian Castaldi Paris is in pole position to win the parliamentary seat to be vacated by Chris Cardona today. Sources within the Labour Party say that Castaldi Paris is also eyeing Cardona's PL deputy leadership position.
In-Nazzjon says that PL deputy leader for party affairs Chris Cardona is entitled to stay in the position until after the next general election even if he resigns his parliamentary seat. The paper says that Cardona was excluded by the incoming Prime Minister Robert Abela.
L-Orizzont reports on five new Covid-19 cases discovered from more than 1,200 swab tests conducted on Tuesday. Meanwhile, 36 patients were confirmed recovered taking the number of active cases down to 120.
The Malta Business Weekly follows an interview with Barclays bank CEO Jes Staley who said that the coronavirus made crowded office blocks 'a thing of the past' as the bank is looking for ways to keep distance working after the restrictions are lifted.