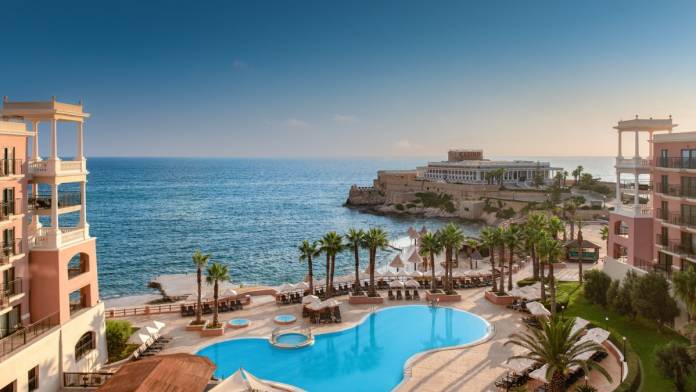 Tista' taqra bil- Malti.
The newly refurbished Westin Dragonara Resort, located in St Julian's, has completed a €40 million renovation.
Conceptualised by London based interior designer, Lynne Hunt, the newly renovated guest rooms offer a light and airy design that promotes relaxation and renewal. Taking inspiration from the extraordinary location and the hotel's passion for wellbeing, all design details champion the natural surroundings, featuring soft hues of Maltese limestone and the turquoise tones of the Mediterranean Sea.
The centrepiece of the renovation project is the hotel lobby with its's ORVM Lounge and Piano bar. Guests are invited to relax under the soft mood lighting and recharge with the soundtrack of the soothing ocean that drifts from the connecting veranda. Floor-to-ceiling glass doors lead out onto a newly extended veranda, perfect for al fresco socialising and relaxing. In addition, guests can choose from the nourishing menu packed with healthy heart-warming dishes or enjoy a 'Crafted at Westin' cocktail from a dazzling array.
First opened in 1997, The Westin Dragonara Resort has been at the forefront of Maltese hospitality. Perfect for business travellers and families alike, the hotel is a wellness retreat with innovative amenities, including Westin's award-winning Westin Heavenly® Bed, uniquely designed with plush, pillow-top construction for premium comfort and support allowing guests to experience a night of restorative sleep.
Michael Camilleri Kamsky, General Manager of The Westin Dragonara Resort commented: "The fully refurbished Westin Dragonara Resort is now truly well placed to be 'the gateway to luxury in Malta'.  Our €40m investment coupled with the high standards of service which our team is renowned for, as well as our staff friendliness, are a guarantee to our guests and patrons that their stay will leave them feeling better than when they arrived. Every element of our refurbishment has been considered to help guests relax and re-energise, from the spacious design, to the unique food and beverage offering. We look forward to welcoming guests to experience this gem at first hand."
Additional information on the the Westin Dragonara Resort can be found online.
This content was supplied by the Westin Dragonara Resort