Both the Mayor of St Julians and a major club owner expressed their disappointment at the fracas which took place in the night of the New Year 2021. In that night a brawl took on the form of a pitched battle and Paceville looked more like a set on a Wild West movie. On 103's monring show, Albert Buttigieg, mayor and Philip Fenech, Malta Chamber of SMEs Deputy President gave their reacions.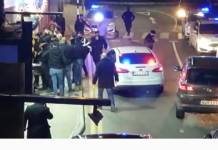 St. Julian's is being mentioned in the press for the wrong reasons due to the irresponsible behaviour of the few.
Albert Buttigieg, mayor of St Julian's said that the lack of enforcement in Paceville is damaging the country's image abroad at a time when the whole tourism sector is suffering from the effects of the pandemic. Buttigieg said that St. Julian's is being mentioned in the press for the wrong reasons, which are the result of the irresponsible behaviour of the few. He noted however that the lack of enforcement in some cases was also creating the right ambience for these pitched baltes to occur. He said that the locality had the majority of the business outlets in the locality following the rules issued by the national health authorities. Others however, acted irresponsibly and opened the establishment. This uneven observance of the law served as the scene for a fight among a group of Syrian and Libyan nationals at 0100h on New Year's day.
Buttigieg thanked the police for their work and said that this incident should not shed a bad light on the efforts, however enforcement needs to be stepped up. He said that this situation is unfair on a number of businesses, which observed the rules. The mayor said that he discussed the issue with the police and the MTA as the whole industry is being put in bad light. He said that if need be, licences of non-complying outlets are revoked, adding that enforcement is also needed on other issues like waste collection.
All stakeholders want to improve the standards in the area
From his end, Philip Fenech, Deputy President of the SME Chamber, expressed his disappointment that the venue where this incident happened was breaking the rules and regulations agreed upon due to Covid-19 restrictions. He echoed the claim made by the mayor that it is unfair that such incidents tarnish the industry in a challenging time.
Fenech said that all stakeholders have one common aim, that of improving the standards in the area, adding that they pushed and urged everyone to follow the regulations and restrictions, even though unfortunately there were a number of abuses.