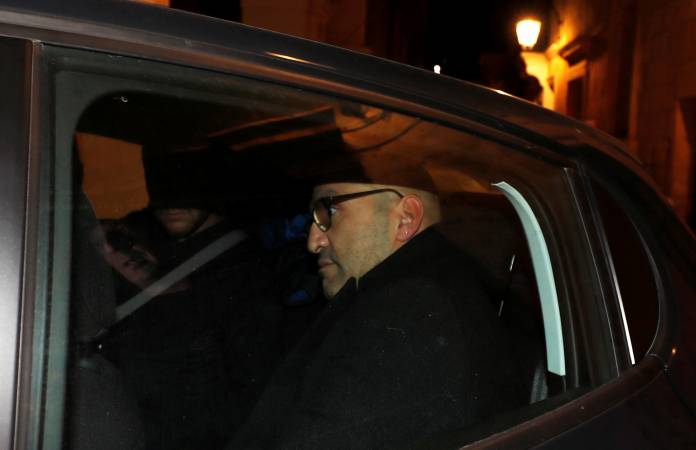 Tista' taqra bil- Malti.
Police Inspector Kurt Zahra's cross-examination will continue today during the compilation of evidence against Yorgen Fenech, who is being accused of complicity in the murder of journalist Daphne Caruana Galizia


At 11:00h Court will continue hearing Fenech's request to have Arnaud removed from the investigation.

Thank you for following Newsbook.com.mt
The court sitting ends here. Tomorrow the dourt will decide on Fenech's request to open a constitutional case and on his request for bail at 12:30h.
Dr Mercieca says that in the past two years bail has been granted 8 times for the same indictment. He adds that Fenech would be willing to sign in every day and be subjected to constant surveillance. He concludes using words from Fenech's statement to the police:" I am saddened yet proud to be Maltese. This is a complete frame-up".
Court orders defence to conclude.



"Fenech has no ties to business or foreign companies except for a family hotel in France" insisted Dr Mercieca, adding that the prosecution and the parte civile need to bring evidence to the contrary if they want to maintain that Fenech should be kept under arrest. He said that the fact that Fenech had been given police bail 4 time shows that he has an obedient character. He insisted that Fenech would obey instructions and can also have surveillance while at home.


Dr Mercieca said that it was not true that Fenech had tried to abscond since he had children to think of. He said that a person's ties do not come from hobbies but from family, a family whom he has not seen for 10 months, said Dr Mercieca.
Dr Mercieca quoted the Lassana Cisse case and said that the defendants had been released which indicated that the perception that bail led to public unrest was an erroneous one. He said that public disorder stems from corrupt institutions. He added that the murder was the result of institutional failure on the part of Castille (Government) on the part of the AG and on the part of the Police. TA former lawyer at the AG's office, Dr Mercieca said that the questions posed by the defence revealed issues which had been until then hidden.
The Court says it will decide tomorrow on the request for bail.


Dr Mercieca says that most of the evidence is with the prosecution and not with the defence. He adds that granting Fenech bail will not cause civil unrest nor raises issues of public safety.
"We are talking on the right to freedom of movement, the most important and sacrosanct right there is," intoned Dr Mercieca as Dr Peter Caruana Galizia and his sons look on from the benches facing Yorgen Fenech. They listen impassively.
The Defence team maintains that the reply from the AG's office came too late and that was affecting all the procedures. It added that Fenech has been in preventive custody for almost a year and this is not a 'short time'
Dr Charles Fenech argued that the delays in the hearingsFenech's rights are being infringed and the defendant should be considered innocent until proven guilty


Meanwhile, the court informs that the sitting will resume tomorrow ar 12:30h when Fenech's request for bail and the request for constitutional proceedings made in this sitting will be decided. The court will only see those two matters.

The constitutional hearing which the defendant requested to have Insp Arnaud removed from the case will take place at 11:00h tomorrow.
Defence starts submissions as to why the defendant should be freed.


Magistrate Montebello proceeds to ask for submissions by the defence on the defendant's plea for release on bail
While Mathew Caruana Galizia is supposed to take the stand, Dr Jason Azzopardi calls for a suspension of the session, saying that the witness would need more than half an hour. Magistrate Montebello accedes to the request.
Defence objects to Dr Jason Azzopardi's earlier question as to whether the defendant felt any remorse for the murder of Daphne Caruana Galizia. It further objects to the fact that Insp Zahra replied. to that question where he said that Fenech had shown no such emotion.


The expert will analyse the call logs between Commissioner Cutajar and Il-Ġojja. The service provider will also be asked to testify on the call logs between these two from November 2019 to date.
Insp Arnaud says he has no objection to the appointment of such an expert. The court says that the expert will be appointed on the following day.
The Court tells Insp Arnaud that the prosecution had to reply to the defence on a request for an expert in telephony. Insp Arnaud looks baffled.


Matthew Caruana Galizia takes the stand.
Magistrate Montebello said that the court had placed the sticky note. The cross-examination of Insp Zahra is suspended after the officer exhibits two sets of notes on which he gave evidence.


"Absolutely impossible" came the reply
Defence asked Insp Zahra if he left a sticky note attached to his notes. Insp Zahra said that if he did that was an oversight. Insp Zahra is then asked if he left a note with the initials 'L.C.' (for Commissioner Lawrence Cutajar).
Insp Zahra said that he had been keeping notes in the same book since the start of the investigation and said that the notes are not related to the evidence he gave today.
Defence team insists that all evidence is passed on to them. The conversations referred to are to be verified by Insp Zahra in the next sitting. The officer also says that he removed pages from his notes since these refer to requests for state's evidence by Theuma and Fenech.
Lead investigator Insp Keith Arnaud enters the courtroom
Dr Caruana Curran refers to the notes taken by Insp Zahra and says that the recordings were not played to Il-Ġojja and the latter did not want to speak.
Insp Zahra said that he did not speak to Ian Abdilla of the Economic Crimes Unit about Fenech
Defence asks to see all annotations taken by Insp Kurt Zahra when he interrogated the defendant
And we're back with Insp Kurt Zahra on the stand and the defence team in possession.
Sitting is suspended till 14:15 h and will then continue till 15:30.


"And on that phone there were messages to relatives telling them to 'take care of my children', erupts Insp Zahra.
Insp Zahra said that in the recordings the names Keith Arnaud, Silvio Valletta and Owen Bonnici are mentioned. Defence Lawyer Caruana Curran says that during interrogation, Fenech had asked for his mobile to prove to the inspector that he never intended to escape.
Insp Zahra replied that further arrests had been made but this is contested by the defence, saying that the arrests were made after Fenech's interrogation
"So you did not feel the need to arrest others?" asked the defence lawyer
Insp Zahra said that up until Fenech was arrested, he had only heard the recordings he had played to the defendant.
Replying to the defence's question as to whether 'a lot of police' went to arrest Fenech, Insp Zahra said that the arrest was co-ordinated between the AFM and the Police Force.
As the defence lawyers insist that only a handful of the 200 recordings were played to the defendant, Insp Zahra said that they had played to him all that they had. He added that when the request for state's evidence to Fenech was denied, the defence was given all the recordings. Insp Zahra added that they had made full disclosure with the material they had up to that point.
Insp Zahra said that Fenech was not told of the statements by Theuma, Johann Cremona and Dr Adrian Vella but the defence team heard all the recordings.
Insp Zahra said that they played 3 recordings to Yorgen Fenech during questioning.
The defence attorney asks if these tappings were played to Il-Ġojja. Insp Zahra replies that he does not know. The court orders him to check.
Insp Zahra said that he would not comment on the telephone tappings by the Secret Service but he knows that there were such tappings.
The court asks Insp Zahra if the Theuma recordings had been played to Il-Ġojja. Defence attorney says that Insp Arnaud had said that they had not been played to Il-Ġojja.
Defence lawyers say that Commissioner Cutajar himself had informed the Task Force, of which Insp Zahra formed part, of his meetings with Il-Ġojja. Insp Zahra said that after the defendant's arrest, the objectives of the task force were increased and additional staff was brought in. He himself joined the task force when Melvin Theuma was arrested.
During all this, Yorgen Fenech frequently stands up. The Defendant is seen whispering to his lawyers.
Insp Zahra said that it was only after Il-Ġojja was arrested that he had come to know of his meetings with Commissioner Cutajar.
Insp Zahra said that while he and Inspec Arnaud prepared the questions, he was not sure if it had actually been the Economic Crimes Unit who had carried out the interrogation.
Dr Vella had recommended that Fenech is taken to hospital. Insp Zahra said that Il-Ġojja did not want to speak to himself and Insp Arnaud.
Insp Zahra said that he knows that Il-Ġojja too was arrested with Theum along with some unspecified family members. Dr Caruana Curran referred to a message on Signal where Theuma wrote: "At least do not arrest my family" but these too were arrested. Insp Zahra said that he interrogated Fenech 8 times: 4 formally and 4 informally. Dr Adrian Vella was brought to the Police Headquarters at the request of the defendant.
Insp Zahra said that he and Insp Arnaud had noticed Fenech was employing delaying tactics but that he also had every opportunity to speak about corruption. Fenech, indeed, alleged that the police corps was corrupt. Insp Zahra said that he was not advised by the AG to investigate this. He adds that he was not sure exactly where Theuma was arrested since he was not present for this event.
Insp Zahra said that investigations are underway on allegations made in the recordings that Commissioner Cutajar accepted bribes to get Theuma's State's evidence. He added that when he had started hearing Dr Adrian Vella's testimony, he had not believed him and had called him a liar. Insp Zahra said that Fenech had said that he was willing to talk of the corruption going on on the 25th November. Insp Arnaud had not interrogated him on that matter since they dealt with homicide but, adds, there was the Commissioner present at that point.
Insp Zahra said that he cannot verify the route which the report took from the Commissioner's desk to Government. Insp Zahra added that the former commissioner had also phoned Il-Ġojja. He added that the recordings show that Theuma got the information from Il-Ġojja not from Commissioner Cutajar.
Insp Zahra said that no one effectively went to the government with the request for state's evidence for Theuma and Fenech. replying to questions by the defence, Insp Zahra said that a report was compiled and passed on to the Commissioner.
In reply to questions by the defence, Insp Zahra says that no similar meetings were held with other major players like Theuma or il-Koħħu
Insp Zahra said that in informal meetings with Fenech there were present himself, Insp Arnaud, Dr Caruana Curran, Dr Camilleri and in some even the former Commissioner Lawrence Cutajar.
Insp Zahra said that Fenech gave over the number not the mobile. He added that his annotations are taken during the sitting and those of the previous sitting are most probably in his office.
Dr Gianluca Caruana Curran asked if Fenech gave his mobile willingly or not. He also asked about the notes which Insp Zahra seemed to be reading from.
Defence attorney takes to the cross-examination


"Absolutely untrue" he declares.

Yorgen smiles.
Replying to a question posed by Dr Azzopardi, Inspector Zahra said that there are currently investigations on the attempt to import cyanide by Yorgen Fenech. Dr Mercieca objects.


The defendant and his lawyers look visibly irritated at the proceedings
Insp Zahra confirms that in early 2017, Caruana Galizia received over 600,000 emails about Electrogas. This, he said, strengthens the police hypothesis that Caruana Galizia was murdered for something she had yet to reveal. The Economic Crimes Unit is investigating this area, he added.
Dr Mercieca objects but is overruled by the magistrate who wants to hear the question posed by Dr Azzopardi.
Yorgen Fenech is seen shaking his finger in a sign of 'NO'
Dr Azzopardi asked Insp Zahra to confirm what was heard in an audio clip: that Theuma was being pestered by Fenech and asked to badger Il-Fulu to find someone to commit the murder.
Insp Zahra said that Fenech did not explain how he had advance knowledge of the 2017 election.
Insp Zahra said that he had not seen Fenech in any way remorseful at the murder of Daphne Caruana Galizia. He added that there are several points where the statements of Theuma and Fenech corroborate
Insp Zahra confirmed that former PM Joseph Muscat had been questioned under caution when he had been at the Police Headquarters recently. He added that Fenech knew of the impending raid on the Degiorgio lair in Marsa because Schembri had alerted him to it.
Dr Azzopardi asked how Insp Zahra knew what il-Koħħu said. Insp Zahra said that he had not been involved in the investigation where Il-Koħħu was involved. He added that in his statement Fenech constantly referred to Keith Schembri and said that the later was passing him a stream of information.
Dr Peter Caruana Galizia, Daphne's widower and himself a lawyer, listens intently, eyes closed.
During all this, the Defendant and his lawyers were constantly whispering and consulting.


Fenech said that the murder was originally priced at €120,000 then upped to €150,000. He had given Theuma €50,000 to cover the €30K deposit the middleman had forked out.

"It was Keith Schembri who told me to proceed (mexxi, mexxi, mexxi) with the murder," Fenech had told the police.
Insp Zahra said that Theuma had confirmed that he had passed on some recordings to Fenech so that if something were to happen to him, the recordings would still be in circulation. Fenech, said Insp Zahra, had maintained that he had not heard the recordings.
Insp Zahra confirmed that Fenech had told former PM Muscat that he did not trust Theuma since he was recording him. Fenech said "We had a group chat, myself [Fenech] , Muscat and Schembri"
Insp Zahra said that Teuma was most concerned by the promise of the bail and n=money to the hitmen and pestered Fenech when these did not happen. He added that he was not informed that Fenech ever sought legal advice on the perceived threats. He added that Fenech said that he had dished out so much cash that Schembri once offered to chip in and that was when he gave him €80,000
Insp Zahra said that Fenech had told him that the PM was aware that their mobiles were being tapped
"I was your friend and I chose you for this job" Fenech is heard saying in the recordings. Insp Zahra said that when questioned, Fenech replied that he was not certain which job was being referred to in that instance.
Dr Azzopardi asks if Fenech and Theuma ever conversed in front of Fenech's children as can be heard in the recordings, Insp Zahra said that he found it strange the Fenech was feeling threatened and yet allowed Theuma in the presence of his children.
Insp Zahra said that according to Fenech, he was paying off Theuma to get rid of him but added that he was feeling under pressure and threatened since he was arrested.
The defence attorney asks why Insp Zahra is being questioned on Theuma's evidence. "None of your business" retorts Dr Azzopardi. This earns him a court rebuke.
Insp Zahra said that an analysis of mobile triangulation shows that Theuma was really at Club 22 on that day. He said that one needs also to take declarations in context. He said that when questioned about the murder Fenech was maintaining that he felt like a patsy. Insp Zahra queried why Theuma needed to visit Fenech if he knew Schembri: "Why did he not just go to Schembri?" He added that Fenech had maintained that Theuma did not know Schembri well.
Insp Zahra said that the day after Daphne Caruana Galizia was killed, Theuma visited Fenech at a table. Among those present t the table, Insp Zahra recognised Turab Musayev [of SOCAR group, on Electrogas board]. He said that Theuma testified in this way.
Insp Zahra said that Theuma's phantom job occurred in 2017 a little while after Theuma had approached the Degiorgio brothers [who stand accused of the murder of Daphne Caruana Galizia]
Insp Zahra is asked about the picture which Melvin Theuma had with Keith Schembri, some payslips and the contract of work which Theuma had been given. Insp Zahra says that the picture came into police custody after they took possession of an ice-cream container where the Theuma recordings were kept. the picture was there as well
Dr Azzopardi starts on a different tack.
Insp Zahra explains that burner phones are cheap mobile phones without 3G or 4G and are used for criminal activity, normally disposed of immediately after that activity is concluded.
Dr Azzopardi asks about the phone call which Yorgen Fenech received from a burner phone.
Dr Azzopardi says that he will continue to analyse the statement made by Yorgen Fenech to the police last November.
After this rather lengthy preamble, Insp Kurt Zahra is called to the stand for the continuation of cross-examination.
Mercieca and Azzopardi differ: the former says that all evidence must be relevant while the latter disputes this.
While Dr Mercieca cites chapter and verse of the law, Dr Azzopardi is seen shaking his head
Defence demands right of reply
Dr Azzopardi; "There are orchestrated attempts to censor the parte civile" He says that the AG's office and the parte civile filed a joint note earlier as they have similar, if not identical, aims.


1. Every time the parte civile is stopped form cross-examination and questioning of witnesses it is creating prejudice against the victim and her family.
2. It is incorrect procedure to permit the defence attorney ot question the validity of a witness, evidence or line of questioning by the parte civile.
3. Maintains that parte civile only has a standing at this stage.
Dr Jason Azzopardi for Parte Civile makes three points:
Insp Zahra reiterates that the Malta Police have access to copies of the mobile's contents while the Duch Europol have the device. The re-affirms that the parte civile have no access to the copies in the Malta Police's possession
The deputy AG says that he cannot comment until the posts being referred to are presented in court.
Dr Mercieca says that if it is found that the parte civile has such access, then the defendant will request the proceedings to be declared null as his rights will have been infringed. Dr Mercieca asks for the matter to be referred to the Civil Court to assess if the rights of Yorgen Fenech have been so infringed.
Insp Zahra says that the police in Malta have only got copies of the contents of the mobile. The device is being held by Europol in the Netherlands. He denies categorically that the parte civile has access to the police copies.
Mrs Marlene Fenech, the defendant's wife, takes the witness stand and presents the report made to the police after finding the missed call from her husband's mobile. She tried to callback on the number but the device was not responding.
Dr Mercieca referred to the Facebook posts of Parte Civile Dr Jason Azzopardi, noting that from these posts it appears that he has a myriad of evidence " pataflun provi" to which the defendant has no access
Dr Mercieca is reprimanded by Magistrate Montebello for continuing with a list of demands when he should have used appropriate procedure.
The lawyers remark that these leaks [to the media from the defendant's mobile]are intended to influence potential jurors, should the proceedings arrive at the jury stage.
Defence attorney says that the defendant has filed a constitutional case on this matter
Dr Charles Mercieca notes that it appears that both Parte Civile lawyers and the media have access to the defendant Yorgen Fenech's mobile. He added that on Friday at 14:30h, Mrs Fenech this weekend received a call from her husband's mobile which is supposedly in police custody as evidence and is also being used as evidence in the murder inquiry. A police report has been filed and lead investigator Insp Arnaud notified. The defence complains that it has been 9 months since it asked for access to Yorgen Fenech's mobile and this has as yet not been granted.
Inspector Keith Arnaud is not present today. Inspector Kurt Zahra will continue to be cross examined.
Magistrate Montebello enters, the proceedings start. Besides Insp Kurt Zahra, Matthew Caruana Galizia will take the stand today
Everyone is in place waiting for Magistrate Rachel Montebello to initiate procedings
We are waiting for proceedings to start.
Good Morning From Hall 22 at the Law Courts in Valletta. For this sitting the lawyers for the defendant Yorgen Fenech, Dr Marion Camilleri, Dr Gianluca Caruana Curran and Dr Charles Mercieca and Parte Civile Lawyers Dr Jason Azzopardi and Dr Therese Comodini Cachia are already in the hall, together with the main witness for the day Inspector Kurt Zahra. Yorgen Fenech smilingly acknowledged his family as he entered the hall. The Caruana Galizia family is also present. The sitting is being attended also by the deputy AG Dr Philip Galea Farrugia
Highlights from the last court sitting:
Inspector Keith Arnaud says that investigations on Keith Schembri are not over yet
Inspector Kurt Zahra says that Fenech told the police that Schembri asked him to find someone to kill Daphne Caruana Galizia
Zahra says that Yorgen Fenech told the Police that it was Schembri who told him to get the job done as soon as he knew of Thuema's plan
Yorgen Fenech, during the interrogations also said that the plan to kill Daphne, originally was not his but Keith Schembri's
Fenech had also claimed that at Girgenti former PM Muscat informed him that Melvin Theuma will be raided by the Police in June 2019