Tista' taqra bil- Malti.
Sue Abela and Paul Gray were crowned BOV Bowling National Senior Champions for 2020. Gray and Abela both led from day one of the championship reserved for bowlers over 50 years of age, and were never in any danger of losing the top spot.
In the ladies section, Abela bowled strongly with a 205 scratch average to maintain her dominance of this division with her fourth title in so many editions of this championship. Her dominance was such that she had an incredible 750 pins scratch over second placed Josephine Borg. The tightly contested third place went to veteran Tessa Bonnici who managed to pip Liliana Spiteri by just 25 pins overall.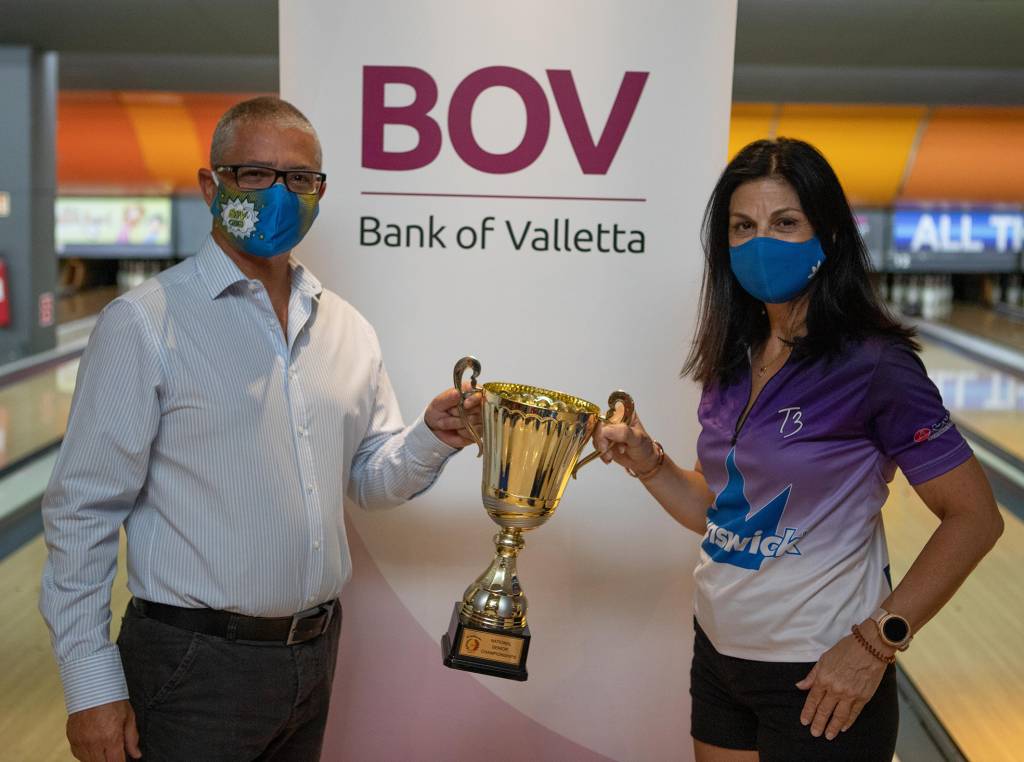 Paul Gray shot out of the starting blocks with his personal best 6 game set of 1472, (245 scratch average), which is also the second best 6 game set ever in the local Seniors category. Gray shot a 299 and a 274 in this set to win these championships for a second time
Gray stayed in total control over the competitors even in day two and three, to end up high bowler scratch with almost a 219 average. With his additional age related handicap he ended up almost 200 pins ahead of second place. This battle for second place was very tightly contested between Mark Spiteri, Dennis Mercieca and Kenneth Arpa. At the end, Spiteri, managed to beat Mercieca by just 1 pin (3922-3921, including handicap), with Arpa 83 pins behind after an unlucky last game. 5th place went to Giancarlo Tolu, who had a great second set of games playing his personal best of 1361 (almost 227 average).
Charles Azzopardi, Executive PR & Marketing at Bank of Valletta presented the trophies to the champions. Bank of Valletta is the one of the main supporters of the Malta Ten Pin Bowling Association and a major supporter of sporting initiatives on the Maltese Islands