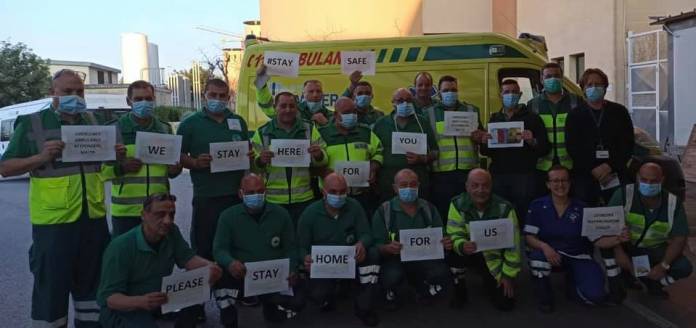 Tista' taqra bil- Malti.
"Stay home for us as we stay here for you" was the appeal of the Emergency Ambulance Respondents who are working around the clock to provide the best service at Mater Dei Hospital together with the rest of the medical staff dealing with patients especially with those who have contracted coronavirus.
Their appeal, posted by Patrick Vassallo, was the same as that of health authorities, to avoid going out of our homes to avoid contracting the virus or spreading it.
They said that although they are physically fit and strong they need to take care of their mental sanity as the situation we are currently living is putting additional stress on the medical staff. But they have faith and hope that everything will be back to normal in the near future and that we would overcome the virus together.
Authorities have been explaining for the past weeks that their aim is to keep the number of cases increasing bit by bit so that the burden on the medical staff would be minor. As explained on various occasions by the Superintendent of Public Health, Prof. Charmaine Gauci and by the Deputy Prime Minister and Health Minister Chris Fearne it is impossible to not have cases of coronavirus increasing daily.
However, Newsbook.com.mt has received this afternoon a photo taken at Ghajn Tuffieha showing a number of cars which shows that not everyone is following the authorities' instructions to stay home and stay safe.
On Friday afternoon, which happens to be Good Friday, during the daily press conference, the Superintendent of Public Health appealed to the public that despite it may be hard to stay at home in such a beautiful day and on a public holiday, it is vital to safeguard our health and that of others to avoid the transmission of coronavirus.