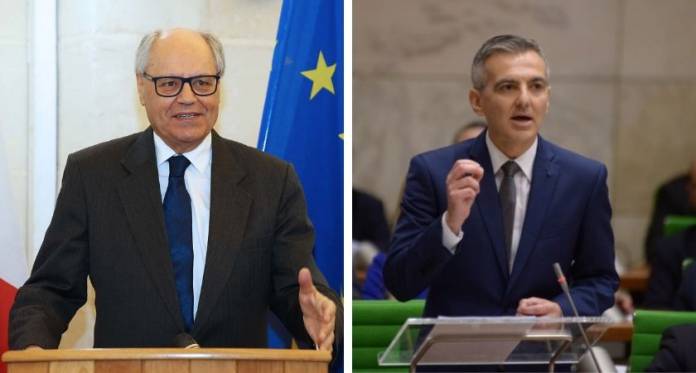 Tista' taqra bil- Malti.
Former Opposition and Partit Nazzjonalista leader Simon Busuttil stood by a tweet he had posted on Finance Minister Edward Scicluna in July.
Finance Minister Edward Scicluna had a filed a libel suit against Busuttil over a tweet back in July after he deemed the comment made in his regard as 'untrue' and felt defamed.
Minister Scicluna said that Busuttil "wanted to intentionally inflict upon me the greatest possible damage," in an affidavit filed during Thursday's hearing.
Testifying in the libel suit filed by Scicluna, Busuttil explained that he was commenting on a newspaper report on a decree delivered by Magistrate Claire Stafrace Zammit who had upheld a request by rule of law NGO Repubblika regarding an inquiry into the Vitals Global Healthcare deal in order to establish if there was criminal complicity by Finance Minister Edward Scicluna, then Tourism Minister Konrad Mizzi and then Economy Minister Chris Cardona in the transfer of St Luke's, Karin Grech and Gozo hospitals.
Busuttil explained what he meant in his tweet and said that following the decree, Malta could not afford having a Finance Minister subject of a criminal inquiry. The Opposition MP said that Scicluna should step down as finance minister until his name was cleared. He added that by being implied in a criminal inquiry, it was enough for a Finance Minister in the Eurozone to step down.
Lawyer Ivan Sammut asked Busuttil whether he thinks that his comments were unreasonable, unjustifiable and unmerited. The former Opposition Leader replied with 'no'. He told the court that he did not deny it was a public comment. He added that the Finance Minister was 'embarrassing' the country. He distinguished between political and legal arguments, adding that his comments were done in the political arena and were not implying that Scicluna was guilty.
It was argued that use of the hashtag in the allegedly defamatory comment was claimed to have been done intentionally by Busuttil to tarnish the minister's reputation with his "fellow eurozone ministers" at a "delicate" phase when Scicluna was in the running to being nominated EU Commissioner.
In his affidavit Scicluna said that the choice of words "embroiled in a money-laundering investigation" was indicative of Busuttil's "malicious" intent giving the impression of "deep involvement". He added that Busuttil "knows very well that I'm not being investigated over any accusation of illegality."
The case continues in March.
Lawyer Peter Fenech assisted Simon Busuttil.