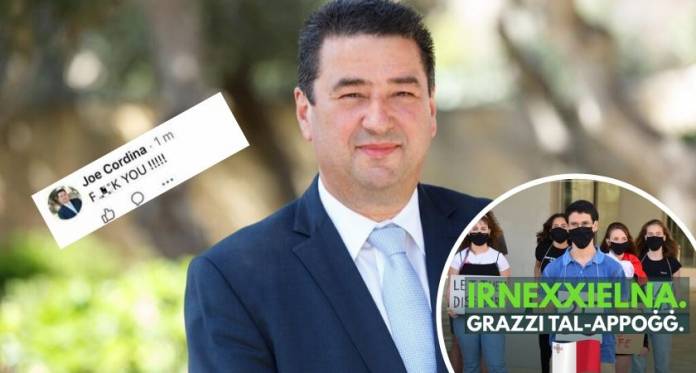 Tista' taqra bil- Malti.
Rule of law NGO Repubblika has called on the Hate Crime and Speech Unit to investigate Gozo Channel chairman Joe Cordina after he hurled abuse at an 18-year-old activist campaigning for the safe disembarkation of asylum seekers who were detained out at sea.
In a statement on Sunday, Repubblika showed its solidarity with Cassar and his fellow activists following the online abuse they have received. It also expressed its concern that Cordina, a person who holds public office, joined in.
"This behaviour is totally unbecoming and unacceptable in civil society and Mr Cordina should be asked to tender his resignation," the NGO said.
Cordina hurled abuse against Cassar on a Facebook post the latter had posted on his personal Facebook profile. Cassar along with fellow activists have campaigned against the detention of asylum seekers on private passenger vessels chartered by the government for this purpose.
The comment on a post was subsequently deleted after Cordina was criticised for it, however many had taken a screenshot had been taken.
National Youth Council condemns abuse
The National Youth Council (KNŻ) has vehemently condemned all the abusive comments made towards Cassar on social media over the past few weeks.
"A healthy democracy is one which encourages educated debate between persons who should understand that their opinion will not be shared by everyone. Such, however, excludes the use of hate speech against those whose opinions one does not hold," the National Youth Council stated.
"It is especially worrying that several youths resorted to homophobic abuse at their peers," the KNŻ said.
The council expressed its disgust at the comment by Cordina reminding that he was at the helm of a state-owned company. It also called on the government to reprimand the chairman for his behaviour.
"A culture of educated discourse cannot be fostered if persons in such positions are left to act with impunity."
"The abuse levelled against Cassar highlights the wider pervasiveness of hate speech in Malta. As the EU country with the highest rate of online hate speech, action is urgently needed to eliminate the sense of impunity with which such comments are made."