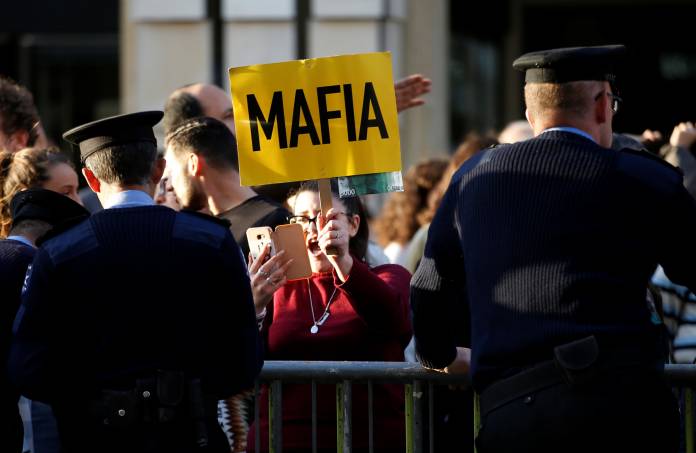 Tista' taqra bil- Malti.
Various press freedom organisations and two European politicians have released a statement to mark the 1,000th day since investigative journalist Daphne Caruana Galizia was murdered. In their separate statements they noted, that to date justice has not been served.
The rapporteur to the Parliamentary Assembly of the Council of Europe, Dutch MP Pieter Omtzigt remarked that "Daphne's brutal assassination continues to cast a dark shadow over Maltese public life."
"The tireless devotion of her family, the meticulous work of investigative journalists and the committed activism of civil society have kept Daphne's name at the heart of the national conversation," he continued.
"Politicians and police officers have resigned or been sacked, because of Daphne. The criminal proceedings and public inquiry relating to her murder have revealed astonishing evidence of corruption, conspiracy, obstruction and incompetence. Much of what Daphne reported, once rejected as lies, has since been confirmed by independent public watchdogs. Many of those who stoked hatred against her in life have fallen into disgrace since her death."
Omtzigt noted that despite all of the protracted court proceedings, the interminable inquiries, the changes in personnel and the endless promises of reform, the most important results have still not been achieved. To date, no one has been convicted for Caruana Galizia's murder and none of her allegations of high-level corruption has been 'convincingly'
The Dutch MP reiterated the need to establish the Joint Investigation Teams which is different that simply collaborating with Europol.
"The Maltese police must now establish Joint Investigation Teams with their foreign counterparts, or they will never get to the bottom of her murder or the multiple scandals that are associated with it."
"Once again demand justice for all those involved in her murder and the corruption she exposed"
Various press freedom organisations in a joint statement have once again demanded justice ahead of 12 July. The organisations referred to the court proceedings and recent revelations of state corruption and impunity.
"Investigations in Italy, France, Latvia and Montenegro have also revealed links to corruption related to Caruana Galizia's investigations in Malta," the organisations said.
"Had the corruption which Caruana Galizia exposed – including the Panama Papers – been fully investigated and prosecuted at the time, it could have reduced the risk and isolation that she faced as a journalist, including an orchestrated campaign of harassment and vilification by high-level political and business figures in Malta," they said.
The NGOs also referred to the appointment of a new head of the Economic Crimes Unit, Alexandra Mamo, and the nomination of a new Police Commissioner, Angelo Gafà. They said that these appointments present an opportunity for the Maltese authorities to commit to tackling long-standing failures to investigate and prosecute allegations of high-level corruption and reform institutions.
The joint statement was signed by Article 19, Association of European Journalists, Committee to Protect Journalists, European Centre for Press and Media Freedom, Free Press Unlimited, Index on Censorship, International Freedom of Expression Exchange, International Press Institute, Osservatorio Balcani e Caucaso Transeuropa, PEN International, Reporters Without Borders, Scottish PEN, and Transparency International.
The system in Malta is still rotten – Giegold
"Although the murder investigations are finally making progress, the systematic problems of corruption and money laundering continue. The system in Malta is still rotten," German Green MEP Sven Giegold said in a statement.
The MEP who serves as the financial and economic policy spokesperson of the Greens/EFA group stressed that Malta needs fundamental reforms.
"The rule of law is systematically disregarded in Malta. Corruption, money laundering and the sale of citizenships continue on the island. The EU-Commission is much too tame towards Malta's government. The Commission must initiate infringement proceedings so that Malta fully complies with EU regulations on combating money laundering, banking supervision and judicial independence. The sale of Maltese citizenships is a blatant violation of EU rules. The European Parliament today called to open infringement proceedings on the sale of citizenships. The sale of civil rights is in at odds with the treaty obligation to cooperate sincerely between Member States (Article 4(3) TEU)," the MEP said.
He maintained that while the Council of Europe speaks a clear language towards Malta, the EU-Commission does not live up to its responsibilities. "Europe can no longer stand by and watch how Malta continues to systematically undermine the rule of law."
"Europe has a responsibility to ensure that political consequences follow from the Daphne revelations. Her investigations should not be forgotten. Many Maltese citizens rightly demand that Daphne be honored. Instead of repeatedly clearing the temporary monument, the government should search for a consensual solution for a permanent monument to Daphne. What you can still do for Daphne today is to ensure that her work was not in vain. Europe must do all it can to achieve this. I will never forget Daphne."
"She was killed over a longer period of time by those in power" – Repubblika
The NGO Repubblika remembered this day by confirming its determination to uncover the whole truth surrounding Daphne's murder and for justice to be served.
Repubblika said that it renews its determination in favour of all that Daphne Caruana Galizia stood for, and for which she was murdered, including honesty, correct behaviour and accountability in public life.
"The more time passes, the more we see that Daphne was right when, though sometimes a lone voice, she revealed that our country was being taken over by corruption." – stated the anti-corruption NGO.