Tista' taqra bil- Malti.
Qormi local council passed a motion unanimously against the reclaiming of farmland as part of Infrastructure Malta project. The council said that the project can damage the rainwater relief that prevents flooding in the area.

A plan by Infrastructure Malta to build a flyover in the Imrieħel Bypass has been met by criticism. Qormi residents and farmers are opposing the project.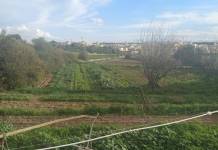 The agency plans to build a flyover at the crossroads between Imrieħel Bypass (Vjal ir-Royal Malta Artillery) and Triq in-Negozju.
Following meetings with Infrastructure Malta seeking information about the project, the local council met with urgency. During the council meeting, Mayor Josef Masini Vento presented the motion.
The Council said that road safety needs to be assured to avoid tragedies, but not at the detriment of one of the last green patches in the locality.
Moviment Graffitti said in a reaction that the council is acting in the quality of life of Qormi residents before partisan politics.

The NGO, together with Qormi residents and farmers were the first to voice their concern about the project.
The NGO said that the new flyover planned for the Imriehel Bypass will forever destroy the farming activity in the area.