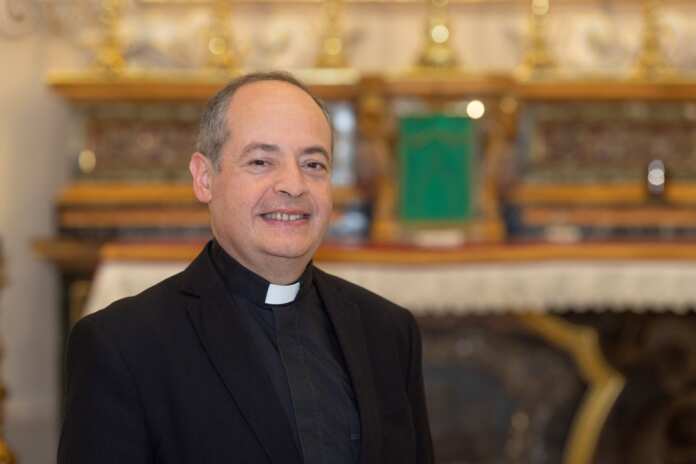 The detailed programme of the Episcopal Ordination of Mgr Joseph Galea-Curmi was announced on Tuesday by the Archdiocese of Malta.
Starting on Friday August 3, the Archbishop Charles J. Scicluna will lead a prayer vigil in preparation for the Episcopal Ordination of the New Auxiliary Bishop of Malta. The prayer vigil will be held at the parish church of St Joseph the Worker in Birkirkara. During the vigil, where the Apostolic Nuncio, Archbishop Alessandro d'Errico will also be in attendance, Mgr Galea-Curmi will recite the profession of faith and will take the oath of fedelity. Archbishop Scicluna will bless the episcoal insigna which will be worn by Mgr Galea-Curmi on the day of his Episcopal Ordination. There prayer vigil will be streamed live on the YouTube Channel of the Archdiocese of Malta.
On the following day, Archbishop Scicluna will lead the Solemn Mass of the Ordination with the Gozo Bishop Mgr Mario Grech and Archbishop Emeritus, Mgr Paul Cremona as co-ordaining Bishops.
Both the prayer vigil and the Episcopal Ordination to be held on August 3 and 4 respectively will be aired on Newsbook.com.mt.
On Saturday 11 August the newly ordained Auxiliary Bishop will celebrate a Thanksgiving Mass with the Balzan community where he has been serving for the past 27 years.
Transport is being organised by the Archbishop's Curia for the episcopal ordination. Anyone who wishes to attend the Episcopal Ordination Mass and would like to make use of the transport service which starts at 5.30pm from the Archbishop's Seminary, Tal-Virtù, should send an SMS to 79747300 with their names and surnames.