During an interview on Newsbook Hour on 103, the Superintendent of Public Health, Prof. Charmaine Gauci said the measures announced recently to combat the spread of coronavirus were implemented as we are in the local transmission phase.
The Superintendent of Public Health said that authorities have issued a list of the categories of people considered as vulnerable. She said that people who live with vulnerable people are not exempted from reporting to work.
She said that it is important that people follow the instructions as there might be cases where people do not know they have contracted the virus but if they stay home they will surely avoid transmitting it to other.
Prof.Gauci explained that all those who were ordered on Thursday, by Health Minister Chris Fearne, to stay indoors and not go out, should only do so if they have no option. Prof. Gauci was indirectly referring to the conflicting statements made by Health Minister Chris Fearne and Prime Minister Robert Abela.
On Friday, Prime Minister Robert Abela stated that "We are not locking people inside," while the Deputy Prime Minister and Health Minister Chris Fearne insisted that a lockdown for vulnerable people was necessary.
Who is considered to be vulnerable?
Over 65 years old;
Insulin-dependent diabetics;
patients on biologicals;
patients on chemotherapy or who underwent such treatment in the past six months;
people who undergo renal dialysis;
people who are immuno-suppressed;
pregnant;
patients who were admitted to hospital for some respiratory disease over the past year;
anybody who had a heart condition in the past six months;
all those who attend the heart failure clinic;
people on oral steroids.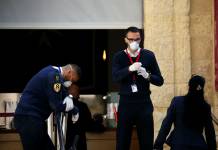 If you want to be the first to receive the latest news on the coronavirus in Malta, download the Newsbook APP here.