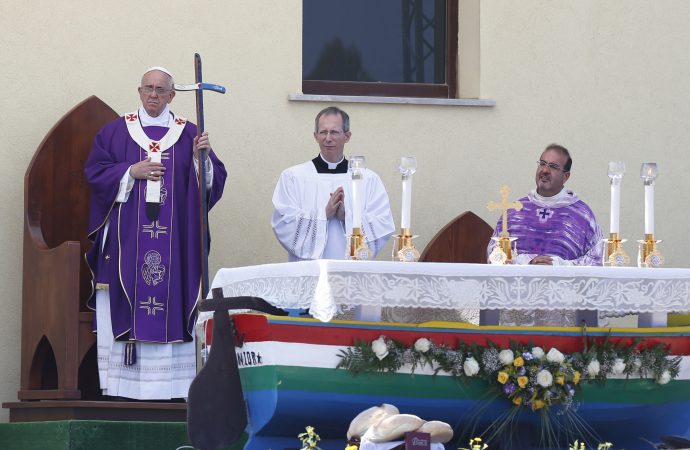 According to Pope Francis, the only "reasonable response" to the challenges presented by contemporary migration is "solidarity and mercy," less concerned with political calculations and more with an equitable distribution of responsibilities.
Quoting a passage from the Bible, the pontiff on Friday said that "the days are coming" in which God will "send a famine on the land… a thirst for hearing the words of the Lord" upon all those who "trample upon the needy, and bring to ruin the poor of the land."
Many of the poor, Francis said, are trampled on today.
"How many of the poor are being brought to ruin! All are the victims of that culture of waste that has been denounced time and time again," including migrants and refugees who "continue to knock at the door of nations that enjoy greater prosperity."
Pope Francis's words came at a private Mass he led in Rome's St. Peter's Basilica, not at the main altar but the one known as the Altar of the Seat of Peter, located behind the main altar, allowing for smaller ceremonies. Some 200 people, including migrants and those who work with them, were in attendance.
A just immigration policy, the pontiff said, "is one at the service of the person," and is capable of providing solutions that can ensure "security, respect for the rights and dignity of all; a policy concerned for the good of one's own country, while taking into account that of others in an ever more interconnected world."
Francis also said that even though God promises freedom to all the oppressed, "he needs us to fulfil his promise."
"He needs our eyes to see the needs of our brothers and sisters. He needs our hands to offer them help. He needs our voice to protest the injustices committed thanks to the silence, often complicit, of so many," he said, before listing several "silences," including the silence of common sense and that silence which justifies injustice because "it's always been done this way."
Francis said that Jesus rebuked the Pharisees, pointing his finger at the "sterile hypocrisy of those who do not want to 'dirty the hands,' like the priest or the Levite in the parable of the Good Samaritan."
"This is a temptation powerfully present in our own day," he added. "It takes the form of closing our hearts to those who have the right, just as we do, to security and dignified living conditions. It builds walls, real or virtual, rather than bridges."
The Mass was celebrated to mark the fifth anniversary of the pope's first outing outside of Rome, which took place July 8, 2013. On that occasion, he visited the southern Italian city of Lampedusa, considered one of the entrance doors for the thousands of migrants and refugees fleeing Africa and the Middle East for Europe.