Tista' taqra bil- Malti.
Activist and presenter Peppi Azzopardi challenged Prime Minister Robert Abela on migration policy in an interview on Sunday morning, insisting that as the head of a purportedly left-leaning party, the plight of asylum seekers should be of concern to him.
Azzopardi, whose popular show Xarabank was controversially axed by TVM this year, is known to champion liberal and left-wing causes, and used the interview to challenge Abela as the head of a self-declared progressive party on issues such as migration and prison reform.
He recalled that when Abela travelled to Libya, his wife asked him to remember that he had a young daughter in light of the inherent dangers involved.
"But if you, as prime minister, was in danger, think about those we send back to Libya," Azzopardi charged. He thus sought assurances that Malta would not send asylum seekers back to Libya.
No such assurances were forthcoming, with Abela, seemingly displeased with the line of questioning, choosing to expound on how Malta welcomed far less asylum seekers last month than in August 2019, despite an increase in the number of people leaving Libya in a bid to reach safety.
But Azzopardi was not impressed with this answer, highlighting that while he agreed that there should be more solidarity on the issue within Europe, the victims should not suffer as a result of the ongoing diplomatic dispute.
"What happened to the others? Have they drowned? Shouldn't we be concerned about them," he asked. "You are the head of the Labour Party, supposedly a left-wing party: you should be worried about them!"
Abela stuck to his guns, refusing to provide Azzopardi with the assurances he sought and charging that the presenter wanted Malta to assume responsibility over everyone, in spite of his assertion to the contrary. When Azzopardi protested that asylum seekers should not be left to risk death in Libya, the PM questioned whether Malta and Lampedusa should be expected to assume responsibility for every person seeking to leave the North African country, before insisting that Malta could do no more than it already did.
Amid deaths in custody, PM defends prison policies
Discussion on prison – another topic close to Azzopardi's heart – took a similar bent, with the presenter lamenting the spate of deaths occurring at the Corradino Correctional Facility.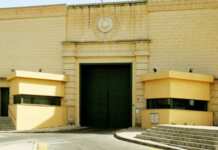 Azzopardi highlighted that director of prisons Alex Dalli affixed a note at the prison in which he argued that "it is our duty to teach fear," and once more accused Abela of pursuing right-wing policies as the head of a Labour Party.
But while Abela said that he disagreed with such a statement in principle, and acknowledged that overcrowding was an issue, he defended what was happening under Dalli's watch, stating that the drugs problem in prison had been solved and that violence – including self-harm – was being brought down by a policy which entailed the loss of privileges.
He also highlighted that fewer inmates were being detained at the forensic unit of Mater Dei Hospital, which, he said, had long been "a racket of privileged inmates."
Abela insists Daphne inquiry must end by December
Abela also insisted that the public inquiry into the assassination of Daphne Caruana Galizia must end by December, the deadline set in his controversial "one-time extension."
He claimed that according to the terms of reference agreed upon together with the Caruana Galizias, the inquiry should have concluded within 9 months. That interpretation has been characterised as a misquotation by Council of Europe rapporteur Pieter Omtzigt, who in a scathing letter to Abela insisted that it was not up to the government to decide when an independent inquiry should cease its work.
The prime minister also insinuated that the members of the inquiry – retired judge Michael Mallia, former Chief Justice Joseph Said Pullicino and Judge Abigail Lofaro – were not working hard enough. He highlighted that they met only held sittings twice a week, and that if need be, they should hold daily sittings.
Abela was adamant that the chapter must be closed, so that Malta could start working on restoring its damaged reputation.
PM believes children should be physically present in schools
Azzopardi also noted that when schools had been closed last March, there were 9 active cases of Covid-19. But now that schools are set to reopen, Malta counted more than 600.
But Abela emphasised that schools should reopen, stating that he and his wife had already decided to send their daughter to school if they do reopen physically.
He repeatedly stated that governments needed to safeguard people's lives and their livelihoods, and that as such, there was the need to strike a balance between health and economy concerns.
When challenged, the PM refused to state whether he regretted his flippant remark that the only waves were to be found at sea, weeks before the arrival of a second wave which has far surpassed the first. He argued that the situation had been fluid, with cases increasing and decreasing, and that this was set to continue for months if not years. People, he added, needed to adapt to this reality.
But he also insisted that Malta's handling of the pandemic was good, and by way of example highlighted that France had just reported a daily record of 13,500 new cases of Covid-19.
That comparison may not have been the best one, however: as a proportion of the population, the 106 cases reported by Malta last Wednesday would actually be slightly higher.