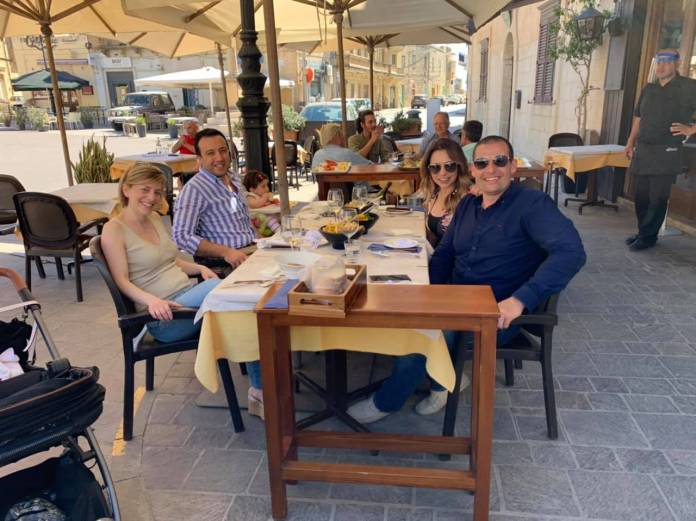 Tista' taqra bil- Malti.
Prime Minister Robert Abela along with his family chose Gozo for their first Sunday lunch after restaurants and bars were allowed to re-open their doors to customers. On Friday, more restrictive measures which had been implemented to contain the spread of the coronavirus were removed. A number of new regulations came into force to mitigate the effects of the removal of such measures.
Prime Minister Robert Abela accompanied by his wife, Lydia Abela, had their Sunday lunch with Minister for Gozo Clint Camilleri and his family at a restaurant located in Xagħra Square. The photo was published by Camilleri on his political Facebook page.
During one of his speeches, Abela had said that he was waiting for restaurants to re-open their doors and that he would be among the first to dine out once this happens.
Last Monday, the government announced that more measures would be lifted. The move came under fire, with various medical bodies warning against the second wave. During the past week, the number of cases were seen soaring, as the number of active cases went over 100.
In his Facebook post, Camilleri urged the public to support local businesses.
Various establishments were allowed to re-open subject to a number of new regulations on Friday.
On Sunday, the association representing restaurants appealed to the Prime Minister to intervene and regulate the commercial leases, complaining that landlords were demanding the same rates before the coronavirus outbreak in Malta.
If you want to be the first to receive the latest news on the coronavirus in Malta, download the Newsbook APP here.