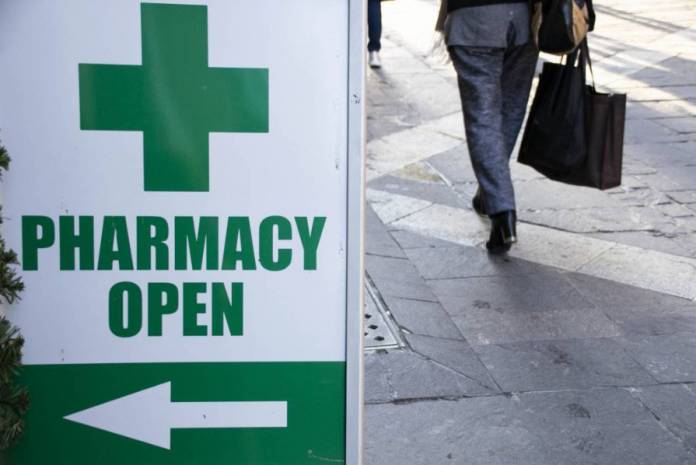 Tista' taqra bil- Malti.
Valletta, Floriana
Chemimart, 20/21, Triq ir-Repubblika , Valletta
21246051
Ħamrun, Marsa
The Cross Pharmacy, 859, Triq il-Kbira San Ġużepp, Ħamrun
21227682
Qormi, Santa Venera
St. George's Pharmacy, 21, Triq il-Kbira, Qormi
21443045
Birkirkara, Fleur-de-Lys
Mackie's Pharmacy, Triq L. Casolani, Ta' Paris, Birkirkara
21496089
Gżira, Msida, Ta' Xbiex, Pietà, Gwardamanġa
St Anthony Pharmacy, 56, Triq San Ġużepp, Pieta
21237327
San Ġwann, St Julians, Is-Swieqi, Pembroke, Ta' Giorni, L-Ibraġ
St Julian's Pharmacy, 24, Triq G. Borg Olivier, St Julians
21369426
Sliema
Remedies Pharmacy, 144, Triq Manwel Dimech, Sliema
21344722
Lija, Attard, Balzan
St Catherine Pharmacy, Triq id-Dielja k/m Triq Santa Katerina, Attard
21413442
Mosta, Naxxar, Għargħur, Mġarr
St Albert Pharmacy, Triq l-Oratorju, Għargħur
21413402
Mellieħa, St Paul's Bay, Buġibba, Qawra
Parkes Pharmacy, 582, Triq San Pawl, St Paul's Bay
21571764
Paola, Tarxien, Santa Luċija
Maddalena Pharmacy, Shop 2, Binja tal-Faqqani, Dawret it-Torri, Santa Luċija
21677037
Isla, Birgu, Bormla, Kalkara
Vittoriosa Pharmacy, 9, Triq il-Mina l-Kbira, Birgu
21807529
Żabbar, Marsaskala, Fgura (PO)
May Day Pharmacy, Triq il-Vittorja, Żabbar
21826529
Birżebbuġa, Għaxaq, Żejtun, Marsaxlokk, Gudja
Gudja Pharmacy, Triq il-Kappillam c/w Triq William Baker Gudja
21696422
Luqa, Mqabba, Żurrieq, Qrendi, Kirkop
Bronja Pharmacy, Sonata, Triq il-Bronja, Żurrieq
21682251
Żebbuġ, Siġġiewi
Spiżerija Ħal Mula, Triq Dun Salv Ciappara, Żebbuġ
21461693
Rabat, Dingli, Mtarfa
St Anthony Pharmacy, 18 Triq il-Kbira, Rabat, Malta
21454187
Rabat (Victoria), Gozo
Taċ-Ċawla Pharmacy, Triq 7 ta' Ġunju 1919, Victoria, Gozo
21557819
Other localities, Gozo
Joyce's Pharmacy, Vjal it-8 ta' Settembru, Xagħara, Gozo
21561486
The airport pharmacy is also open. Please check with them re: opening hours.
Mobile Blood Donation
On Tuesday 31st March 2020, the mobile blood donation unit will be available in PAMA Shopping Village parking area, Mosta from 8:.30 am till 1.00 pm. If you feel healthy, kindly get your ID card and donate blood.