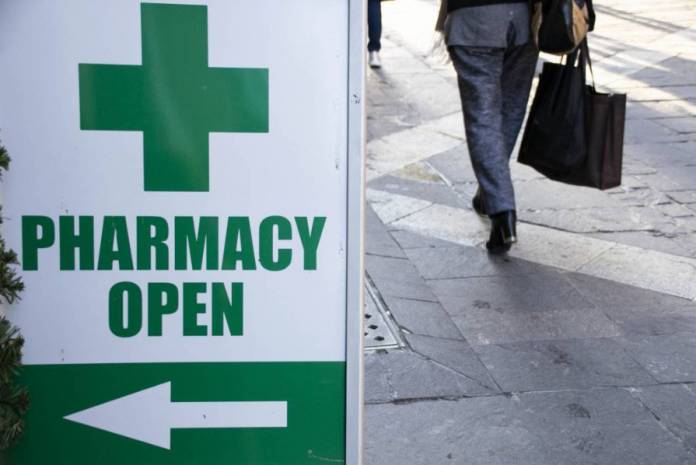 Tista' taqra bil- Malti.
Valletta, Floriana
Royal Pharmacy, 271, Triq ir-Repubblika, Il-Belt Valletta
21252396
Ħamrun, Marsa
Vivien Pharmacy, Triq Patri Magri, Marsa
21221701
Qormi, Santa Venera
Collis Williams St. Venera Pharmacy, 532, Triq il-Kbira San Ġużepp, Santa Venera
21238625
Birkirkara, Fleur-de-Lys
Remedies Pharmacy, Triq Tumas Fenech, Birkirkara
21441589
Gżira, Msida, Ta' Xbiex, Pietà, Gwardamanġa
Remedies Pharmacy, 5, Tagliaferro Mansions, Triq il-Prinċipessa Margerita, Msida
21346547
San Ġwann, St Julians, Is-Swieqi, Pembroke, Ta' Giorni, L-Ibraġ
Pembroke Pharmacy, 87, Triq Giuseppe Malfeggiani, Pembroke
21372784
Sliema
Drug Store: Anglo Maltese Dispensary Ltd. 382, Triq Manwel Dimech, Sliema
21334627
Lija, Attard, Balzan
St. Mary Pharmacy, 2, Triq Antonio Schembri, Attard
Mosta, Naxxar, Għargħur, Mġarr
Victory Pharmacy, 16, Pjazza il-Vitorja, Naxxar
21412454
Mellieħa, St Paul's Bay, Buġibba, Qawra
Remedies Pharmacy, 111, Triq George Borg Olivier, il-Mellieħa
21523462
Paola, Tarxien, Santa Luċija
De Paola Pharmacy, 36, Pjazza Antoine De Paule, Paola
21826408
Isla, Birgu, Bormla, Kalkara
White Cross Pharmacy, Shop A, Block 1, Fuq San Pawl, Bormla
21821671
Żabbar, Marsaskala, Fgura (PO)
Medicor Pharmacy, 57, Triq Carmelo Ritchie, Xagħjra
27032296
Birżebbuġa, Għaxaq, Żejtun, Marsaxlokk, Gudja
Gerada Pharmacy, 146, Triq Mater Boni Cosniglii, Żejtun
21806009
Luqa, Mqabba, Żurrieq, Qrendi, Kirkop
Prestige Pharmacy, 16, Triq San Ġużepp, Kirkop
21641328
Żebbuġ, Siġġiewi
Santa Marija Pharmacy, 40, Triq l-Għasfura, Żebbuġ
21465346
Rabat, Dingli, Mtarfa
Ideal Pharmacy, 63, Triq il-Kbira, Rabat, Malta
21455479
Rabat (Victoria), Gozo
Azzopardi Pharmacy, Triq il-Kapuċċini, Victoria, Gozo
21563233
Other localities, Gozo
Ta' Pinu Pharmacy, Triq Franġisk Portelli, l-Għarb, Għawdex
27888128
The airport pharmacy is also open from 8.00 am to 10.00 pm
Mobile Blood Donation
On Thursday 19th March 2020, the mobile blood donation unit will be available infront of Zurrieq Local Council offices from 8.30 am till 1.00 pm. If you feel healthy, kindly get your ID card and donate blood.