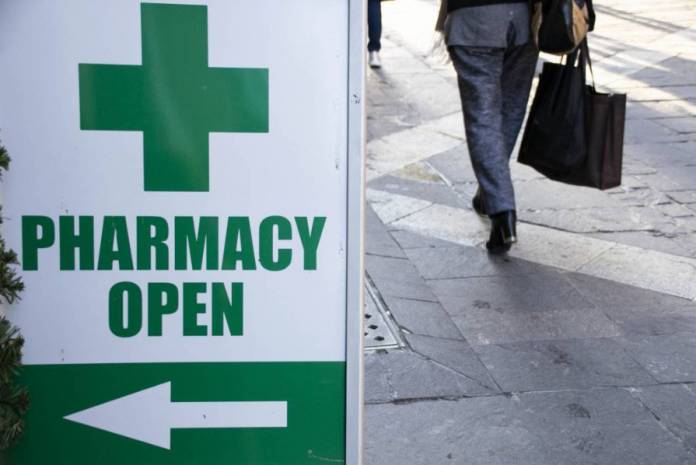 Valletta, Floriana
Empire Pharmacy (Branch), 46 Triq Melita, Valletta
21225785
Ħamrun, Marsa
Thomas' Pharmacy, 796, Triq il-Kbira San Ġużepp, Ħamrun
21238018
Qormi, Santa Venera
Collis Williams St. Venera Pharmacy, 532, Triq il-Kbira San Ġużepp, Santa Venera
21238625
Birkirkara, Fleur-de-Lys
Herba Pharmacy, 183, Triq il-Kbira, Birkirkara
21443406
Gżira, Msida, Ta' Xbiex, Pietà, Gwardamanġa
St. Luke's Pharmacy, Triq San Luqa, Pietà
21241293
San Ġwann, St Julians, Swieqi, Pembroke, Ta' Giorni, L-Ibraġ
Spiżerija Kappara, Żbibu Lane, San Ġwann
21381177
Sliema
Edward's Pharmacy, 115, Triq Manwel Dimech, Sliema
21334102
Lija, Attard, Balzan
Il-Mehrież Pharmacy, 31, Triq Giovani Curmi, Iklin
21435567
Mosta, Naxxar, Għargħur, Mġarr
Reeds Pharmacy 191, Triq il-21 ta' Settembru, Naxxar
27130068
Mellieħa, St Paul's Bay, Buġibba, Qawra
Remedies Pharmacy, 111, Triq George Borg Olivier, Mellieħa
21523462
Paola, Tarxien, Santa Luċija
Theresa Jo Pharmacy, 3A, Triq Xintill, Tarxien
21672703
Isla, Birgu, Bormla, Kalkara
Verdala Pharmacy, 57, Triq il-Gendus, Bormla
21824720
Żabbar, Marsaskala, Fgura (PO)
Milia's Pharmacy, Triq il-Qaliet k/m Triq il-Lampuka, Marsaskala
27023322
Birżebbuġa, Għaxaq, Żejtun, Marsaxlokk, Gudja
St. Philip Pharmacy, Triq iċ-Ċeppun, Għaxaq
21808723
Luqa, Mqabba, Żurrieq, Qrendi, Kirkop
Pasteur Pharmacy, Triq it-Tellerit, Safi
21689944
Żebbuġ, Siġġiewi
De Rohan Pharmacy, Triq Sant' Antnin, Żebbuġ
21464128
Rabat, Dingli, Mtarfa
Nova Pharmacy, 142, Triq il-Kulleġġ, Rabat, Malta
21454274
Rabat (Victoria), Gozo
Azzopardi Pharmacy, Triq il-Kapuċċini, Victoria, Gozo
21563233
Other localities, Gozo
Pisani Pharmacy, Bini Ġdid, Triq Sannat, is-Sannat, Gozo
21564447
The airport pharmacy is also open. Please check re: opening hours. Tel no: 23694369.
Mobile Blood Donation
On Sunday 10 January 2021, the mobile blood donation unit will be available in Mediatrix Square next to Żabbar Parish Church from 8:30am till 1:00pm. If you feel healthy, kindly get your ID card and donate blood.
General Practitioners Service in Health Centres on Sundays and Public Holidays
The Mosta, Paola and Floriana Health centres are open for emergencies 24 hours seven days a week. The Gzira health centre is also open for emergencies (cases requiring urgent medical attention) between 8.00 am and 5.00 pm and a nursing service is available between 8.00 am and 8.00 pm on Sundays and public holidays. The public should attend the health centre of their catchment area. Persons without an identity card will not be attended to.