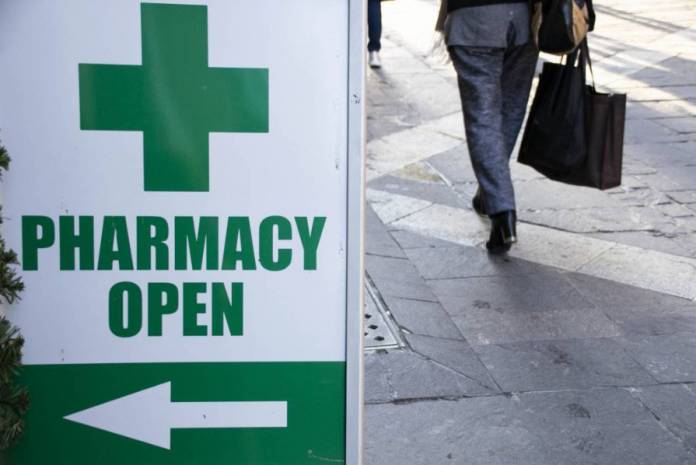 Tista' taqra bil- Malti.
Valletta, Floriana
Floriana Dispensary, 29, Triq Vincenzo Dimech, Floriana
21233034
Ħamrun, Marsa
Cosmed Pharmacy, Soccors, 7 Triq il-Franġiskani fi Triq Villambrosa, Ħamrun
21225991
Qormi, Santa Venera
Pinto Pharmacy, 43, Triq San Bastjan, Qormi
21487311
Birkirkara, Fleur-de-Lys
St Jude Pharmacy, 213, Triq il-Wied, Birkirkara
21492151
Gżira, Msida, Ta' Xbiex, Pietà, Gwardamanġa
Remedies Chemists, Marina Court, 49A, Triq l-Abate Rigird, Ta' Xbiex
21341649
San Ġwann, St Julians, Swieqi, Pembroke, Ta' Giorni, L-Ibraġ
Ta' Giorni Pharmacy, Shop 2, Triq Lapsi, Ta' Giorni
21333886
Sliema
Remedies Pharmacy, 144, Triq Manwel Dimech, Sliema
21344722
Lija, Attard, Balzan
St Michael Pharmacy, Misraħ tat-Transfigurazzjoni, Lija
21435875
Mosta, Naxxar, Għargħur, Mġarr
Smiths (Pama) Pharmacy, Triq Valletta, Mosta,
21417593
Mellieħa, St Paul's Bay, Buġibba, Qawra
St Paul's Bay Pharmacy, 504, Triq il-Kbira, St Paul's Bay
21575276
Paola, Tarxien, Santa Luċija
Tarxien Pharmacy, 59, Triq Ħal Tarxien, Tarxien
21802986
Isla, Birgu, Bormla, Kalkara
Vittoriosa Pharmacy, 9, Triq il-Mina l-Kbira, Birgu
21807529
Żabbar, Marsaskala, Fgura (PO)
May Day Pharmacy, Triq il-Vittorja, Żabbar
21826529
Birżebbuġa, Għaxaq, Żejtun, Marsaxlokk, Gudja
Gerada Pharmacy, 146, Triq Mater Boni Cosniglii, Żejtun
21806009
Luqa, Mqabba, Żurrieq, Qrendi, Kirkop
Kirkop Pharmacy, 9, Triq il-Parroċċa, Kirkop
21682028
Żebbuġ, Siġġiewi
Santa Marija Pharmacy, 40, Triq l-Għasfura, Żebbuġ
21465346
Rabat, Dingli, Mtarfa
Nova Pharmacy, 142, Triq il-Kulleġġ, Rabat, Malta
21454247
Rabat (Victoria), Gozo
Azzopardi Pharmacy, Triq il-Kapuċċini, Victoria, Gozo
21563233
Other localities, Gozo
Xagħra Pharmacy, 55, Triq il-Knisja, Xagħra, Gozo
27551140
The airport pharmacy is also open. Please check with them re: their opening hours. Tel no: 23694369.
Mobile Blood Donation
On Sunday 9th August 2020, the mobile blood donation unit will be available next to Holy Rood Church, St Andrea Area, Żabbar, from 8.30 am till 1.00 pm. If you feel healthy, kindly get your ID card and donate blood.
General Practitioners Service in Health Centres on Sundays and Public Holidays
The Mosta, Paola and Floriana Health centres are open for emergencies 24 hours seven days a week. The Gzira health centre is also open for emergencies (cases requiring urgent medical attention) between 8.00 am and 5.00 pm and a nursing service is available between 8.00 am and 8.00 pm on Sundays and public holidays. The public should attend the health centre of their catchment area. Persons without an identity card will not be attended to.