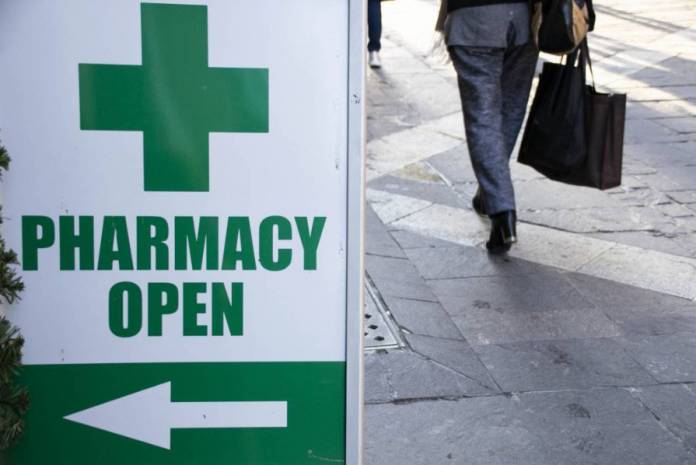 Tista' taqra bil- Malti.
Valletta, Floriana
Chemimart City Gate Pharmacy, City Gate, Valletta
21238355
Ħamrun, Marsa
Darwin Pharmacy, 152, Triq il-Kbira San Ġużepp, Ħamrun
21221512
Qormi, Santa Venera
Pinto Pharmacy, 43, Triq San Bastjan, Qormi
21487311
Birkirkara, Fleur-de-Lys
St. Paul's, Triq Brared, Birkirkara
21442135
Gżira, Msida, Ta' Xbiex, Pietà, Gwardamanġa
Regional Pharmacy, Triq E. H. Furse, Msida
21312449
San Ġwann, St Julians, Is-Swieqi, Pembroke, Ta' Giorni, L-Ibraġ
Pembroke Pharmacy, 87, Triq Giuseppe Malfeggiani, Pembroke
21372784
Sliema
Chemimart Pharmacy . 4,5,6, il-Piazzetta, Triq it-Torri, Sliema
21338369
Lija, Attard, Balzan
St. Michael Pharmacy, Misraħ tat-Transfigurazzjoni, Lija
21435875
Mosta, Naxxar, Għargħur, Mġarr
Sta. Margherita Pharmacy, Vjal il-Qalbiena Mostin, Santa Margherita Estate, Mosta
21416426
Mellieħa, St Paul's Bay, Buġibba, Qawra
St Paul's Bay Pharmacy, 504, Triq il-Kbira, St Paul's Bay
21575276
Paola, Tarxien, Santa Luċija
Distinction Pharmacy, 32, Pjazza Antoine De Paule, Paola
21693412
Isla, Birgu, Bormla, Kalkara
Milia's Pharmacy, Triq il-Kottonera, Birgu
27600126
Żabbar, Marsaskala, Fgura (PO)
Bellavista Pharmacy, 88 Triq il-Hortan, Marsaskala
21633788
Birżebbuġa, Għaxaq, Żejtun, Marsaxlokk, Gudja
Beta Pharmacy, 50/52, Triq Santa Marija, Għaxaq
21663311
Luqa, Mqabba, Żurrieq, Qrendi, Kirkop
Remedies Pharmacy, 5, Triq Santa Katerina, Mqabba
21641133
Żebbuġ, Siġġiewi
Brown's Pharmacy, 47, Vjal il-Ħelsien, Żebbuġ
21465411
Rabat, Dingli, Mtarfa
St Anthony Pharmacy, 18 Triq il-Kbira, Rabat, Malta
21454187
Rabat (Victoria), Gozo
Taċ-Ċawla Pharmacy, Triq 7 ta' Ġunju 1919, Victoria, Gozo
21557819
Other localities, Gozo
Tony's Pharmacy, "Egret Court", Triq il-Wied, Marsalforn, Gozo
21563617
The airport pharmacy is also open from 8.00 am to 10.00 pm
Mobile Blood Donation
On Sunday 8th March 2020, the mobile blood donation unit will be available infront of Naxxar Parish Church from 8.30 am till 1.00 pm. If you feel healthy, kindly get your ID card and donate blood.
Health Centres on Sundays and Public Holidays
The Mosta, Paola and Floriana Health Centres are open for emergencies 24/7. On Sundays and public holidays, the Gzira health centre is open for emergencies between 8.00 am and 5.00 pm, there is also a nurse service between 8.00 am and 8.00 pm. People are to visit their district health centre and are to present their identity card.