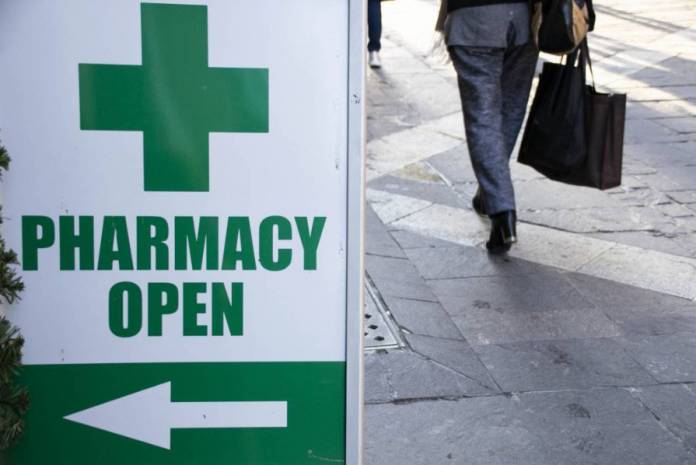 Tista' taqra bil- Malti.

Brought to you by Brown's Pharmacy
Sliema
Brown's Pharmacy, Unit 22, Triq Tigne, Sliema
21313233
Valletta, Floriana
Royal Pharmacy, 271, Triq ir-Repubblika, Valletta
21252396
Ħamrun, Marsa
San Raffael Pharmacy, 247, Triq Ħal Qormi, Marsa
21221118
Qormi, Santa Venera
Pinto Pharmacy, 43, Triq San Bastjan, Qormi
21487311
Birkirkara, Fleur-de-Lys
St Paul's, Triq Brared, Birkirkara
21442135
Gżira, Msida, Ta' Xbiex, Pietà, Gwardamanġa
Regional Pharmacy, Triq E. H. Furse, Msida
21312449
San Ġwann, St Julians, Swieqi, Pembroke, Ta' Giorni, L-Ibraġġ
St Andrew's Pharmacy, Triq il-Qasam, L-Ibraġġ
21371062
Lija, Attard, Balzan
St Joseph Pharmacy, 164, Triq Annibale Preca, Lija
21414051
Mosta, Naxxar, Għargħur, Mġarr
Medicine Chest Pharmacy, Triq Demitriju Farrugia, Għargħur.
21422204
Mellieħa, St Paul's Bay, Buġibba, Qawra
St Paul's Bay Pharmacy, 504, Triq il-Kbira, St Paul's Bay
21575276
Paola, Tarxien, Santa Luċija
Distinction Pharmacy, 32, Pjazza Antoine De Paule, Paola
21693412
Isla, Birgu, Bormla, Kalkara
Milia's Pharmacy, Triq il-Kottonera, Birgu (Vittoriosa)
27600126
Żabbar, Marsaskala, Fgura (PO)
Polymer, Triq ix-Xagħjra, Żabbar
21676263
Birżebbuġa, Għaxaq, Żejtun, Marsaxlokk, Gudja
Medicaid Pharmacy, 62, Vjal it-Torri, Gudja
21676294
Luqa, Mqabba, Żurrieq, Qrendi, Kirkop
Kirkop Pharmacy, 9, Triq il-Parroċċa, Kirkop
21682028
Żebbuġ, Siġġiewi
Tal-Grazzja Pharmacy, Triq Franġisk Farrugia, Żebbuġ
21462068
Rabat, Dingli, Mtarfa
Nova Pharmacy, 142, Triq il-Kulleġġ, Rabat, Malta
21454274
Rabat (Victoria), Gozo
Palm Pharmacy, 2, Triq il-Palma, Victoria, Gozo
21566170
Other localities, Gozo
Pisani Pharmacy, Bini Ġdid, Triq Sannat, Sannat, Gozo
21564447
The airport pharmacy is also open. Please check with them re: their opening hours.
Mobile Blood Donation
On Sunday 7th June 2020, the mobile blood donation unit will be available next to at Xewkija Berġa from 8.30 am till 1.00 pm. If you feel healthy, kindly get your ID card and donate blood.
General Practitioners Service in Health Centres on Sundays and Public Holidays
The Mosta, Paola and Floriana health centres are open for emergencies 24 hours seven days a week. The Gzira health centre is also open for emergencies (cases requiring urgent medical attention) between 8.00 am and 5.00 pm and a nursing service is available between 8.00 am and 8.00 pm on Sundays and public holidays. The public should attend the health centre of their catchment area. Persons without an identity card will not be attended to.
Brought to you by Brown's Pharmacy