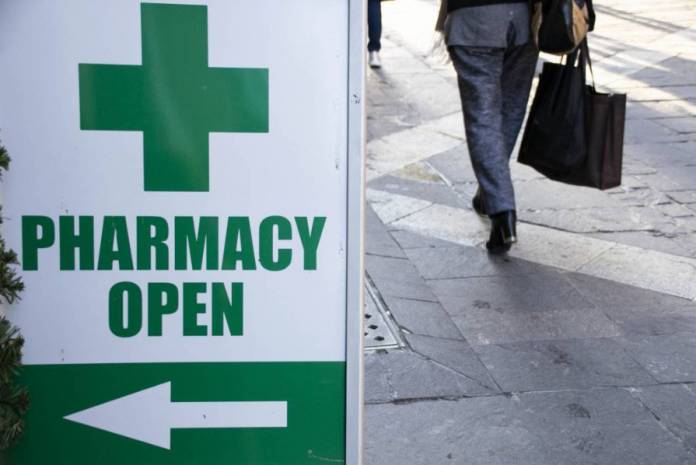 Tista' taqra bil- Malti.
Valletta, Floriana
Chemimart City Gate Pharmacy, City Gate, Valletta
21238355
Ħamrun, Marsa
San Raffael Pharmacy, 247, Triq Ħal Qormi, Marsa
21221118
Qormi, Santa Venera
Lantern Pharmacy, Misraħ il-Kebbies, Santa Venera
21444648
Birkirkara, Fleur-de-Lys
Mackie's Pharmacy, Triq L. Casolani, Ta' Paris, Birkirkara
21496089
Gżira, Msida, Ta' Xbiex, Pietà, Gwardamanġa
St Anthony Pharmacy, 56, Triq San Ġużepp, Pieta
21237327
San Giorgio Pharmacy, Triq Manwel Buhagiar, Pembroke
21378485
Sliema
Chemimart Pharmacy . 4,5,6, il-Piazzetta, Triq it-Torri, Sliema
21338369
Lija, Attard, Balzan
Iklin Pharmacy, Triq Geronimo Abos, Iklin
21415499
Mosta, Naxxar, Għargħur, Mġarr
Reeds Pharmacy 191, Triq il-21 ta' Settembru, Naxxar
27130068
Mellieħa, St Paul's Bay, Buġibba, Qawra
El Medina Chemist, Triq il-Maskli, Qawra
21576308
Paola, Tarxien, Santa Luċija
Sta. Lucia Pharmacy, 1, Misraħ Dorell, Santa Luċija
21890111
Isla, Birgu, Bormla, Kalkara
Milia's Pharmacy, Triq il-Kottonera, Birgu
27600126
Żabbar, Marsaskala, Fgura (PO)
Fgura Pharmacy, Triq il-Koppla, Fgura
21675250
Birżebbuġa, Għaxaq, Żejtun, Marsaxlokk, Gudja
Gudja Pharmacy, Triq il-Kappillam c/w Triq William Baker, Gudja
21696422
Luqa, Mqabba, Żurrieq, Qrendi, Kirkop
Central Pharmacy, 6, Triq San Ġużepp, Luqa
21692546
Żebbuġ, Siġġiewi
Remedies Pharmacy, Peter Pan, Triq Nikola Zammit, Siġġiewi
21460828
Rabat, Dingli, Mtarfa
Nova Pharmacy, 142, Triq il-Kulleġġ, Rabat, Malta
21454274
Rabat (Victoria), Gozo
Abela Pharmacy, 42, Triq G.P.F. Agius De Soldanis, Victoria, Gozo
21556170
Other localities, Gozo
St John Pharmacy, 85, Triq l-Indipendenza, ix-Xewkija, Gozo
21563052
The airport pharmacy is also open. Please check with them re: their opening hours. Tel no: 23694369.
Mobile Blood Donation
On Sunday 6th September 2020, the mobile blood donation unit will be available next to Qawra Parish Church from 8.30 am till 1.00 pm. If you feel healthy, kindly get your ID card and donate blood.
General Practitioners Service in Health Centres on Sundays and Public Holidays
The Mosta, Paola and Floriana Health centres are open for emergencies 24 hours seven days a week. The Gzira health centre is also open for emergencies (cases requiring urgent medical attention) between 8.00 am and 5.00 pm and a nursing service is available between 8.00 am and 8.00 pm on Sundays and public holidays. The public should attend the health centre of their catchment area. Persons without an identity card will not be attended to.