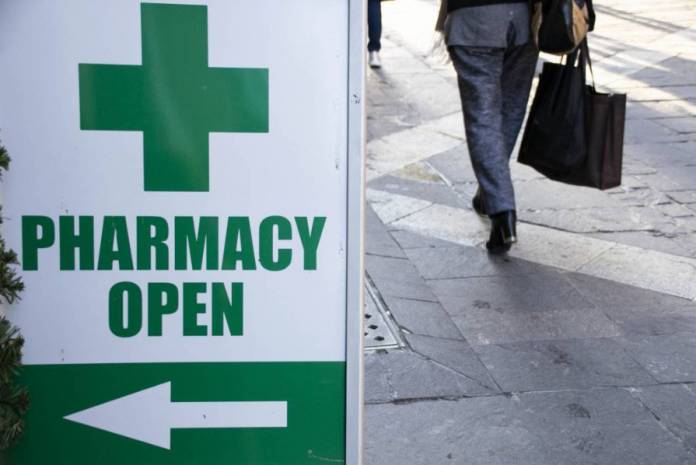 Tista' taqra bil- Malti.
Valletta, Floriana
Chemimart 20/21, Triq ir-Repubblika Il-Belt Valletta
21246051
Ħamrun, Marsa
San Raffael Pharmacy, 247, Triq Ħal Qormi, il-Marsa
21221118
Qormi, Santa Venera
Fatima Pharmacy, 82, Triq il-Ferrovija, Santa Venera
21482856
Birkirkara, Fleur-de-Lys
Rational Pharmacy, 74/75, Triq il-Wied, Birkirkara
21441513
Gżira, Msida, Ta' Xbiex, Pietà, Gwardamanġa
O'Hea Pharmacy, 128, Triq Manoel, il-Gżira
21330268
San Ġwann, St Julians, Swieqi, Pembroke, Ta' Giorni, L-Ibraġ
Potter Chemists Ltd, Triq Wilga, Paċeville
21363244
Sliema
Brown's Pharmacy, Unit 22, Triq Tigne, Tas-Sliema
21313233
Lija, Attard, Balzan
Balzan Pharmacy, 70, Triq San Franġisk, Ħal Balzan
21444035
Mosta, Naxxar, Għargħur, Mġarr
Sgħajtar Pharmacy, Triq is-Sagħjtar, il-Mosta
21415198
Mellieħa, St Paul's Bay, Buġibba, Qawra
Brown's Village Pharmacy, Triq il-Kbira, il-Mellieħa
21523536
Paola, Tarxien, Santa Luċija
Sonren Pharmacy, Triq iż-Żejtun, Ħal Tarxien
21672757
Isla, Birgu, Bormla, Kalkara
Brown's Pharmacy, 8, Misraħ l-Arċisqof Gozni, il-Kalkara
21673811
Żabbar, Marsaskala, Fgura (PO)
Polymer, Triq ix-Xagħjra, Ħaż-Żabbar
21676263
Birżebbuġa, Għaxaq, Żejtun, Marsaxlokk, Gudja
Gudja Pharmacy, Triq il-Kappillam c/w Triq William Baker il-Gudja
21696422
Luqa, Mqabba, Żurrieq, Qrendi, Kirkop
42, Vjal il-Blue Grotto iż-Żurrieq
21689971
Żebbuġ, Siġġiewi
Plaza Pharmacy, 86, Triq il-Kbira, Ħaż-Żebbuġ
21467459
Rabat, Dingli, Mtarfa
Ideal Pharmacy, 63, Triq il-Kbira, Rabat Malta
21455479
Rabat (Victoria), Gozo
Castle Pharmacy, 2, Misraħ l-Indipendenza, Victoria, Gozo
21556970
Other localities, Gozo
St. John Pharmacy, 85, Triq l-Indipendenza, ix-Xewkija, Gozo
21563052
The airport pharmacy is also open. Please check re: opening hours. Tel no: 23694369.
Mobile Blood Donation
On Sunday 6 December, the mobile blood donation unit will be available infront of Qawra Parish Church and in Xewkija Berġa from 8:30am till 1:00pm. If you feel healthy, kindly get your ID card and donate blood.
General Practitioners Service in Health Centres on Sundays and Public Holidays
The Mosta, Paola and Floriana Health centres are open for emergencies 24 hours seven days a week. The Gzira health centre is also open for emergencies (cases requiring urgent medical attention) between 8.00 am and 5.00 pm and a nursing service is available between 8.00 am and 8.00 pm on Sundays and public holidays. The public should attend the health centre of their catchment area. Persons without an identity card will not be attended to.