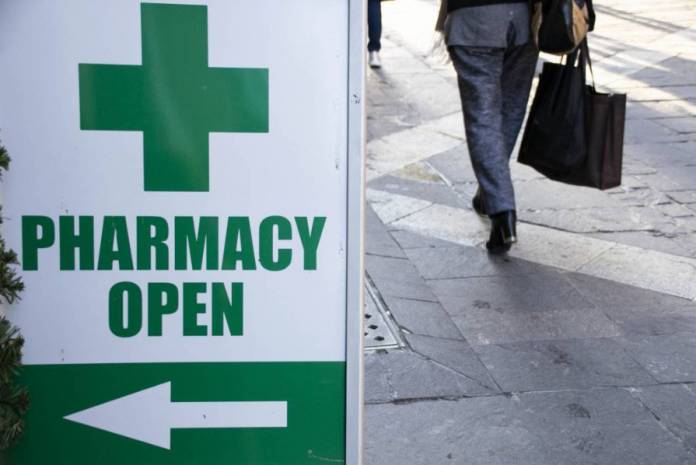 Tista' taqra bil- Malti.
Valletta, Floriana
Chemimart Pharmacy, 14, Triq Sant'Anna, Floriana
21239310
Ħamrun, Marsa
Trinity Pharmacy, 32 Triq il-Marsa, Marsa
21235595
Qormi, Santa Venera
Lantern Pharmacy, Misraħ il-Kebbies, Santa Venera
21444648
Birkirkara, Fleur-de-Lys
Marrit Pharmacy, Triq l-1 ta' Mejju, Fleur-de-Lys Birkirkara
21488613
Gżira, Msida, Ta' Xbiex, Pietà, Gwardamanġa
D'Argen's Pharmacy, 330, Triq D'Argens, Gżira
21330817
San Ġwann, St Julians, Is-Swieqi, Pembroke, Ta' Giorni, L-Ibraġ
Ta' Giorni Pharmacy, Shop 2, Triq Lapsi, Ta' Giorni
21333886
Sliema
Victor's Pharmacy, 9, Triq it-Torri, Sliema
21330352
Lija, Attard, Balzan
Iklin Pharmacy, Triq Geronimo Abos, Iklin
21415499
Mosta, Naxxar, Għargħur, Mġarr
Brown's Chemists, Triq San Pawl, Naxxar
21417652
Mellieħa, St Paul's Bay, Buġibba, Qawra
El Medina Chemist, Triq il-Maskli, Qawra
21576308
Paola, Tarxien, Santa Luċija
Sonren Pharmacy, Triq iż-Żejtun, Tarxien
21672757
Isla, Birgu, Bormla, Kalkara
Vittoriosa Pharmacy, 9, Triq il-Mina l-Kbira, Birgu
21807529
Żabbar, Marsaskala, Fgura (PO)
St. James Pharmacy, Misraħ San Ġakbu, Żabbar
21666194
Birżebbuġa, Għaxaq, Żejtun, Marsaxlokk, Gudja
Medicaid Pharmacy, 62, Vjal it-Torri, Gudja
21676294
Luqa, Mqabba, Żurrieq, Qrendi, Kirkop
Kristianne Pharmacy, Triq ic-Cavi, Mqabba
21683048
Żebbuġ, Siġġiewi
Remedies Pharmacy, Peter Pan, Triq Nikola Zammit, Siġġiewi
21460828
Rabat, Dingli, Mtarfa
Nova Pharmacy, 142, Triq il-Kulleġġ, Rabat, Malta
21454274
Rabat (Victoria), Gozo
Palm Pharmacy, 2, Triq il-Palma, Victoria, Gozo
21566170
Other localities, Gozo
Vella Pharmacy, 15, Triq it-13 ta' Diċembru, Nadur, Gozo
21566431
The airport pharmacy is also open. Please check with them re: their opening hours.
Mobile Blood Donation
On Sunday 5th April 2020, the mobile blood donation unit will be available next to Dingli Parish Church from 8.30 am till 1.00 pm. If you feel healthy, kindly get your ID card and donate blood.