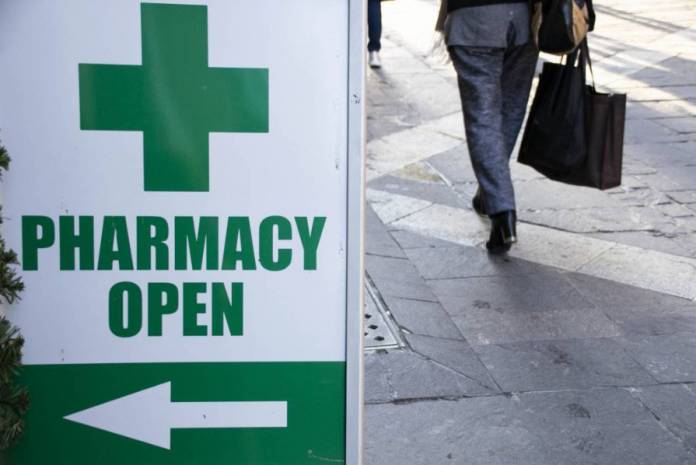 Tista' taqra bil- Malti.
Brought to you by Brown's Pharmacy
Gżira, Msida, Ta' Xbiex, Pietà, Gwardamanġa
Brown's Pharmacy, Shop 10, Yacht Marina Apartments, Triq il-Marina, Msida
21244366
Mellieħa, St Paul's Bay, Buġibba, Qawra
Brown's Village Pharmacy, Triq il-Kbira, Mellieħa
21523536
Valletta, Floriana
Royal Pharmacy, 271, Triq ir-Repubblika, Valletta
21252396
Ħamrun, Marsa
Cosmed Pharmacy, Soccors, 7 Triq il-Franġiskani fi Triq Villambrosa, Ħamrun
21225991
Qormi, Santa Venera
Fatima Pharmacy, 82, Triq il-Ferrovija, Santa Venera
21482856
Birkirkara, Fleur-de-Lys
St Jude Pharmacy, 213, Triq il-Wied Birkirkara
21492151
San Ġwann, St Julians, Is-Swieqi, Pembroke, Ta' Giorni, L-Ibraġ
Medical Plaza Dispensing Chemists, Cass-i-Mall Buildings, Vjal ir-Rihan, San Ġwann
21372195
Sliema
Harley Pharmacy, 1, Triq Nathalie Poutiatin Tabone, Sliema
21334635
Lija, Attard, Balzan
Balzan Pharmacy, 70, Triq San Franġisk, Balzan
21444035
Mosta, Naxxar, Għargħur, Mġarr
Reeds Pharmacy 191, Triq il-21 ta' Settembru, Naxxar
27130068
Paola, Tarxien, Santa Luċija
Fleming Pharmacy, 61, Triq Ħaż-Żabbar, Paola
21696893
Isla, Birgu, Bormla, Kalkara
Milia's Pharmacy, Triq il-Kottonera, Birgu
27600126
Żabbar, Marsaskala, Fgura (PO)
Polymer, Triq ix-Xagħjra, Żabbar
21676263
Birżebbuġa, Għaxaq, Żejtun, Marsaxlokk, Gudja
Gerada Pharmacy, 146, Triq Mater Boni Cosniglii, Żejtun
21806009
Luqa, Mqabba, Żurrieq, Qrendi, Kirkop
Salus Pharmacy, 21, Misraħ ir-Republika, Żurrieq
21680761
Żebbuġ, Siġġiewi
Tal-Grazzja Pharmacy, Triq Franġisk Farrugia, Żebbuġ
21462068
Rabat, Dingli, Mtarfa
Ideal Pharmacy, 63, Triq il-Kbira, Rabat, Malta
21455479
Rabat (Victoria), Gozo
Taċ-Ċawla Pharmacy, Triq 7 ta' Ġunju 1919, Victoria, Gozo
21557819
Other localities, Gozo
Xagħra Pharmacy, 55, Triq il-Knisja, Xagħra, Gozo
27551140
The airport pharmacy is also open. Please check with them re: their opening hours.
Mobile Blood Donation
On Sunday 3rd May 2020, the mobile blood donation unit will be available next to Luqa Parish Church from 8.30 am till 1.00 pm. If you feel healthy, kindly get your ID card and donate blood.
Brought to you by Brown's Pharmacy