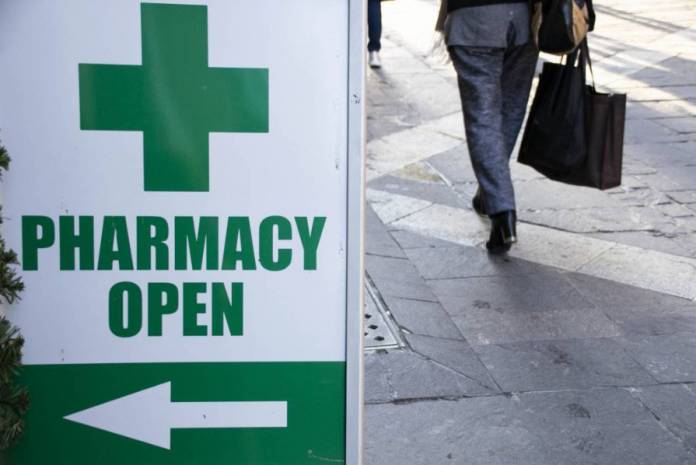 Tista' taqra bil- Malti.
Brought to you by Brown's Pharmacy
Valletta, Floriana
Vilhena Pharmacy, 3, Triq Sant' Anna, Floriana
21244114
Ħamrun, Marsa
San Raffael Pharmacy, 247, Triq Ħal Qormi, Marsa
21221118
Qormi, Santa Venera
Collis Williams St. Venera Pharmacy, 532, Triq il-Kbira San Ġużepp, Santa Venera
21238625
Birkirkara, Fleur-de-Lys
Rational Pharmacy, 74/75, Triq il-Wied, Birkirkara
21441513
Gżira, Msida, Ta' Xbiex, Pietà, Gwardamanġa
Regal Pharmacy, 39B, Triq Antonio Bosio, Msida
21313115
San Ġwann, St Julians, Swieqi, Pembroke, Ta' Giorni, L-Ibraġ
San Ġwann Pharmacy, 11, Triq Feliċ Borġ, San Ġwann
21386974
Sliema
Mrabat Pharmacy, Triq l-Imrabat, Sliema
21313535
Lija, Attard, Balzan
Il-Mehrież Pharmacy, 31, Triq Giovani Curmi, Iklin
21435567
Mosta, Naxxar, Għargħur, Mġarr
Grognet Pharmacy, 41, Triq il-Kostituzzjoni, Mosta
21432038
Mellieħa, St Paul's Bay, Buġibba, Qawra
Remedies Pharmacy, 111, Triq George Borg Olivier, Mellieħa
21523462
Paola, Tarxien, Santa Luċija
Distinction Pharmacy, 32, Pjazza Antoine De Paule, Paola
21693412
Isla, Birgu, Bormla, Kalkara
White Cross Pharmacy, Shop A, Block 1, Fuq San Pawl, Bormla
21821671
Żabbar, Marsaskala, Fgura (PO)
Milia's Pharmacy, Triq il-Qaliet k/m Triq il-Lampuka, Marsaskala
27023322
Birżebbuġa, Għaxaq, Żejtun, Marsaxlokk, Gudja
Gudja Pharmacy, Triq il-Kappillam c/w Triq William Baker, Gudja
21696422
Luqa, Mqabba, Żurrieq, Qrendi, Kirkop
St Andrew's Pharmacy, 25, Triq Dun Pawl, Luqa
21820795
Żebbuġ, Siġġiewi
Santa Marija Pharmacy, 40, Triq l-Għasfura, Żebbuġ
21465346
Rabat, Dingli, Mtarfa
Nova Pharmacy, 142, Triq il-Kulleġġ, Rabat, Malta
21454274
Rabat (Victoria), Gozo
Palm Pharmacy, 2, Triq il-Palma, Victoria, Gozo
21566170
Other localities, Gozo
St. John Pharmacy, 85, Triq l-Indipendenza, Xewkija, Gozo
21563052
The airport pharmacy is also open. Please check with them re: their opening hours.
Mobile Blood Donation
On Sunday 31 May 2020, the mobile blood donation unit will be available infront of Mellieħa Parish Church from 8.30am till 1.00pm. If you feel healthy, kindly get your ID card and donate blood.
General Practitioners Service in Health Centres on Sundays and Public Holidays
The Mosta, Paola and Floriana Health centres are open for emergencies 24 hours seven days a week. The Gzira health centre is also open for emergencies (cases requiring urgent medical attention) between 8.00 am and 5.00 pm and a nursing service is available between 8.00 am and 8.00 pm on Sundays and public holidays. The public should attend the health centre of their catchment area. Persons without an identity card will not be attended to.
Brought to you by Brown's Pharmacy