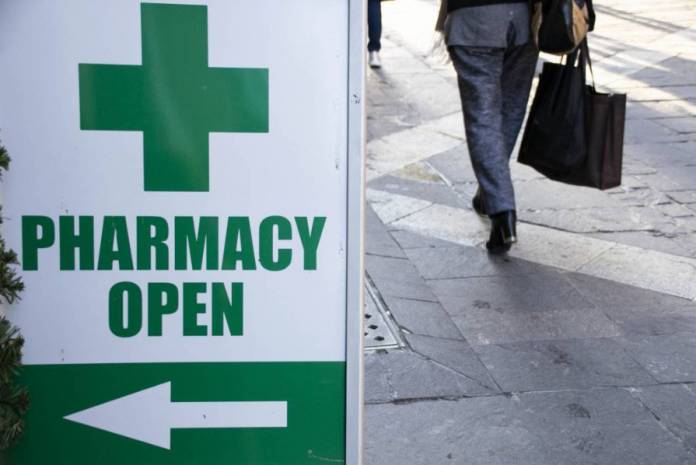 Tista' taqra bil- Malti.
Valletta, Floriana
Collis Williams Pharmacy, 15, Triq ir-Repubblika, Valletta
2123 4567
Ħamrun, Marsa
Fra Diego Dispensary, 94, Triq Villambrosa, Ħamrun
21224898
Qormi, Santa Venera
Evans Pharmacy, 96/98, Triq San Bastjan, Qormi
21487020
Birkirkara, Fleur-de-Lys
St Bartholomew Pharmacy, 30, Triq Fleur-De-Lys, Santa Venera
21482558
Gżira, Msida, Ta' Xbiex, Pietà, Gwardamanġa
O'Hea Pharmacy, 128, Triq Manoel, Gżira
21330268
San Ġwann, St Julians, Swieqi, Pembroke, Ta' Giorni, L-Ibraġ
Medical Plaza Dispensing Chemists, Cass-i-Mall Buildings, Vjal ir-Rihan, San Ġwann
21372195
Sliema
Mrabat Pharmacy, Triq l-Imrabat, Sliema
21313535
Lija, Attard, Balzan
St Catherine Pharmacy, Triq id-Dielja k/m Triq Santa Katerina,Attard
21413442
Mosta, Naxxar, Għargħur, Mġarr
Mġarr Pharmacy, Triq il-Kbira c/w Triq Vitale, Mġarr, Malta
21577784
Mellieħa, St Paul's Bay, Buġibba, Qawra
Il-Gżejjer, Triq il-Kurazza, Qawra
21581876
Paola, Tarxien, Santa Luċija
Brown's Pharmacy, 45, Telgħet Raħal Ġdid, Paola
21694818
Isla, Birgu, Bormla, Kalkara
Milia's Pharmacy, Triq il-Kottonera, Birgu
27600126
Żabbar, Marsaskala, Fgura (PO)
MC Pharmacy, 303, Triq Ħaż-Żabbar, Fgura
21801962
Birżebbuġa, Għaxaq, Żejtun, Marsaxlokk, Gudja
Health Junction Pharmacy, Triq Alfred Cachia Zammit, Żejtun
21898728
Luqa, Mqabba, Żurrieq, Qrendi, Kirkop
42, Vjal il-Blue Grotto, Żurrieq
21689971
Żebbuġ, Siġġiewi
De Rohan Pharmacy, Triq Sant' Antnin, Żebbuġ
21464128
Rabat, Dingli, Mtarfa
Imtarfa Pharmacy, 207 Triq San David, Mtarfa
21451261
Rabat (Victoria), Gozo
Castle Pharmacy, 2, Misraħ l-Indipendenza, Victoria, Gozo
21556970
Other localities, Gozo
Joyce's Pharmacy, Vjal it-8 ta' Settembru, Xagħra, Gozo
21561486
The airport pharmacy is also open. Please check with them re: their opening hours. Tel no: 23694369.
Mobile Blood Donation
On Sunday 30th August 2020, the mobile blood donation unit will be available next to Żejtun Parish Church and in Xewkija Berga from 8.30 am till 1.00 pm. If you feel healthy, kindly get your ID card and donate blood.
General Practitioners Service in Health Centres on Sundays and Public Holidays
The Mosta, Paola and Floriana Health centres are open for emergencies 24 hours seven days a week. The Gzira health centre is also open for emergencies (cases requiring urgent medical attention) between 8.00 am and 5.00 pm and a nursing service is available between 8.00 am and 8.00 pm on Sundays and public holidays. The public should attend the health centre of their catchment area. Persons without an identity card will not be attended to.