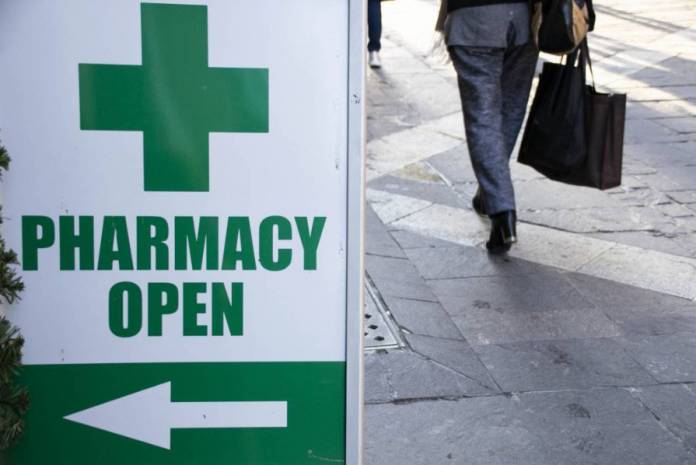 Tista' taqra bil- Malti.
Valletta, Floriana
Empire Pharmacy, 77, Triq it-Teatru l-Antik, Il-Belt Valletta
21225785
Ħamrun, Marsa
Lister Pharmacy, 678, Triq il-Kbira San Ġużepp, Ħamrun
21245627
Qormi, Santa Venera
Evans Pharmacy, 96/98, Triq San Bastjan, Qormi
21487020
Birkirkara, Fleur-de-Lys
Brown's Pharmacy, 32, Triq Fleur-de-Lys, Birkirkara
21488884
Gżira, Msida, Ta' Xbiex, Pietà, Gwardamanġa
Brown's Pharmacy, Shop 10, Yacht Marina Apartments, Triq il-Marina, Pietà,
21244366
San Ġwann, St Julians, Is-Swieqi, Pembroke, Ta' Giorni, L-Ibraġ
Penny Lane Pharmacy, Triq is-Sejjieħ, Swieqi
21375373
Sliema
Norman's Pharmacy, 133, Triq il-Kbira, Sliema
21332243
Lija, Attard, Balzan
St. Catherine Pharmacy, Triq id-Dielja k/m Triq Santa Katerina, Attard
21413442
Mosta, Naxxar, Għargħur, Mġarr
Smiths (Pama) Pharmacy, Triq Valletta, Mosta, MST 9017
21417593
Mellieħa, St Paul's Bay, Buġibba, Qawra
Euro Chemist, Triq il-Kurazza, Qawra
21581876
Paola, Tarxien, Santa Luċija
De Paola Pharmacy, 36, Pjazza Antoine De Paule, Paola
21826408
Isla, Birgu, Bormla, Kalkara
White Cross Pharmacy, Shop A, Block 1, Fuq San Pawl, Bormla
21821671
Żabbar, Marsaskala, Fgura (PO)
St Anne Pharmacy, Triq il-Qaliet, Marsaskala
21637615
Birżebbuġa, Għaxaq, Żejtun, Marsaxlokk, Gudja
St Catherine Pharmacy, Plot 3, Triq il-Qadi, Żejtun
21678039
Luqa, Mqabba, Żurrieq, Qrendi, Kirkop
Safi Pharmacy, St. John Street c/w Bieb il-Ġarra Street, Safi
21649552
Żebbuġ, Siġġiewi
Spiżerija Ħal Mula, Triq Dun Salv Ciappara, Żebbuġ
21461693
Rabat, Dingli, Mtarfa
Imtarfa Pharmacy, 207 Triq San David, Mtarfa
21451261
Rabat (Victoria), Gozo
Abela Pharmacy, 42, Triq G.P.F. Agius De Soldanis, Victoria, Gozo
21556170
Other localities, Gozo
St Joseph Pharmacy, 28, Pjazza San Ġużepp, il-Qala, Gozo
21555348
The airport pharmacy is also open. Please check with them re: opening hours.
Mobile Blood Donation
On Sunday 29th March 2020, the mobile blood donation unit will be available infront of Swatar Parish Church and at the Xewkija Health Centre in Gozo from 8.30 am till 1.00 pm. If you feel healthy, kindly get your ID card and donate blood.