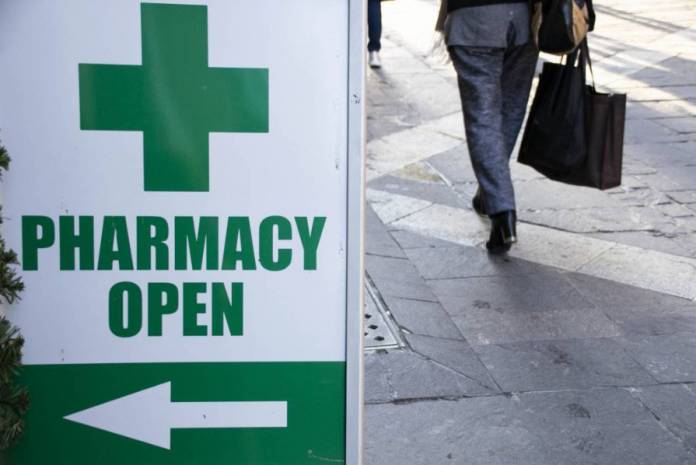 Tista' taqra bil- Malti.
Valletta, Floriana
Collis Williams Pharmacy, 15, Triq ir-Repubblika, Valletta
2123 4567
Ħamrun, Marsa
St Gaetan Pharmacy, Triq il-Kappillan Mifsud, Ħamrun
21234570
Qormi, Santa Venera
Anici Pharmacy, Triq Anici, Qormi
21487162
Birkirkara, Fleur-de-Lys
Collis Williams – St. Mark's Pharmacy, Triq P. Borg Olivier c/w Triq Gianni Vella, Swatar
21440790
Gżira, Msida, Ta' Xbiex, Pietà, Gwardamanġa
D'Argen's Pharmacy, 330, Triq D'Argens, Gżira
21330817
San Ġwann, St Julians, Swieqi, Pembroke, Ta' Giorni, L-Ibraġ
Balluta Pharmacy, 7, Pjazza Balluta, St Julians
21317888
Sliema
Harley Pharmacy, 1, Triq Nathalie Poutiatin Tabone, Sliema
21334635
Lija, Attard, Balzan
M4 Pharmacy, Triq il-Linja, Attard
21436531
Mosta, Naxxar, Għargħur, Mġarr
St Mary Pharmacy, -Mġarr Dispensing Chemists, 71, Triq Sir Harry Luke, Mġarr, Malta
21580711
Mellieħa, St Paul's Bay, Buġibba, Qawra
Promenade Pharmacy, Triq il-Korp tal-Pijunieri, Buġibba
27441160
Paola, Tarxien, Santa Luċija
Fleming Pharmacy, 61, Triq Ħaż-Żabbar, Paola
21696893
Isla, Birgu, Bormla, Kalkara
Verdala Pharmacy, 57, Triq il-Gendus, Bormla
21824720
Żabbar, Marsaskala, Fgura (PO)
St Anne Pharmacy, Triq il-Qaliet, Marsaskala
21637615
Birżebbuġa, Għaxaq, Żejtun, Marsaxlokk, Gudja
Blossoms Pharmacy, Triq il-Gurgier, Birżebbuġa
21652226
Luqa, Mqabba, Żurrieq, Qrendi, Kirkop
Kristianne Pharmacy, Triq ic-Cavi, Mqabba
21683048
Żebbuġ, Siġġiewi
Brown's Pharmacy, 47, Vjal il-Ħelsien, Żebbuġ
21465411
Rabat, Dingli, Mtarfa
Santa Marija Pharmacy, Misraħ Frenċ Abela, Dingli
21452447
Rabat (Victoria), Gozo
Palm Pharmacy, 2, Triq il-Palma, Victoria, Gozo
21566170
Other localities, Gozo
Sokkors Pharmacy, Triq San Girgor, Kerċem, Gozo
21553018
The airport pharmacy is also open. Please check with them re: their opening hours. Tel no: 23694369.
Mobile Blood Donation
On Sunday 26th July 2020, the mobile blood donation unit will be available next to Marsaskala Parish Church from 8.30 am till 1.00 pm. If you feel healthy, kindly get your ID card and donate blood.
General Practitioners Service in Health Centres on Sundays and Public Holidays
The Mosta, Paola and Floriana Health centres are open for emergencies 24 hours seven days a week. The Gzira health centre is also open for emergencies (cases requiring urgent medical attention) between 8.00 am and 5.00 pm and a nursing service is available between 8.00 am and 8.00 pm on Sundays and public holidays. The public should attend the health centre of their catchment area. Persons without an identity card will not be attended to.