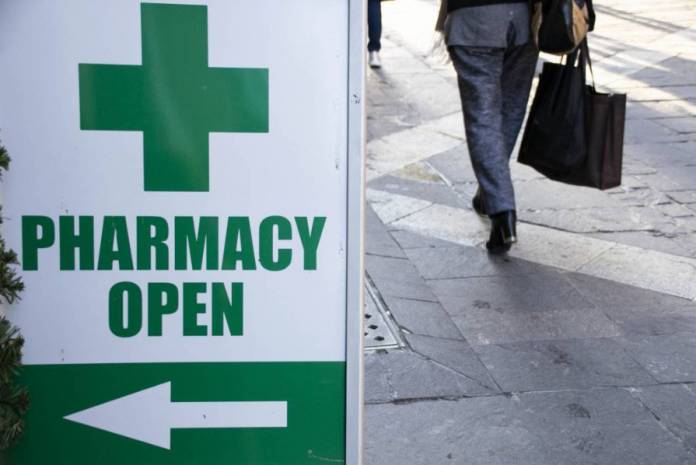 Tista' taqra bil- Malti.
Brought to you by Brown's Pharmacy
Birkirkara, Fleur-de-Lys
St Anne Pharmacy, 24, Misraħ Sant'Elena, Birkirkara
27441913
Valletta, Floriana
Collis Williams Pharmacy, 15, Triq ir-Repubblika, Belt Valletta
21234567
Ħamrun, Marsa
The Cross Pharmacy, 859, Triq il-Kbira San Ġużepp, Ħamrun
21227682
Qormi, Santa Venera
Tal-Ħlas Pharmacy, Triq il-Ħelsien, Qormi
21487739
Gżira, Msida, Ta' Xbiex, Pietà, Gwardamanġa
Remedies Chemists, Marina Court, 49A, Triq l-Abate Rigord, Ta' Xbiex
21341649
San Ġwann, St Julians, Is-Swieqi, Pembroke, Ta' Giorni, L-Ibraġ
St Andrew's Pharmacy, Triq il-Qasam, Ibraġġ
21371062
Sliema
Wales Pharmacy, 183, Triq Manwel Dimech, Sliema
21335492
Lija, Attard, Balzan
St Mary Pharmacy, 2, Triq Antonio Schembri. Attard
21436348
Mosta, Naxxar, Għargħur, Mġarr
Mġarr Pharmacy, Triq il-Kbira c/w Triq Vitale, l-Imġarr Malta
21577784
Mellieħa, St Paul's Bay, Buġibba, Qawra
Qawra Pharmacy, Earl's Court/1, Triq l-Imħar, Qawra
21580881
Paola, Tarxien, Santa Luċija
Maddalena Pharmacy, Shop 2, Binja tal-Faqqani, Dawret it-Torri, Santa Luċija
21677037
Isla, Birgu, Bormla, Kalkara
Alpha Pharmacy, Triq Bormla k.m Vjal il-Kottoner, Fgura
21673811
Żabbar, Marsaskala, Fgura (PO)
Felice Pharmacy, 95, Triq is-Santwarju, Żabbar
21827939
Birżebbuġa, Għaxaq, Żejtun, Marsaxlokk, Gudja
Gerada Pharmacy, 146, Triq Mater Boni Cosnigli, Żejtun
21806009
Luqa, Mqabba, Żurrieq, Qrendi, Kirkop
Kirkop Pharmacy, 9, Triq il-Parroċċa, Kirkop
21682028
Żebbuġ, Siġġiewi
Menelo Pharmacy, Triq it-Tabib Nikol Zammit. Siġġiewi
21462957
Rabat, Dingli, Mtarfa
Spiżerija Carmen, 1, Triq Misraħ is-Suffara, Dingli
21457128
Rabat (Victoria), Gozo
Azzopardi Pharmacy, Triq il-Kapuċċini, Victoria, Gozo
21563233
Other localities, Gozo
Gozo Chemists, Mġarr Road, Xewkija
21557278
The airport pharmacy is also open. Please check with them re: their opening hours.
Mobile Blood Donation
On Sunday 26th April 2020, the mobile blood donation unit will be available infront of Imġarr Parish Church and at the Xewkija Berġa from 8.30 am till 1.00 pm. If you feel healthy, kindly get your ID card and donate blood.
Brought to you by Brown's Pharmacy