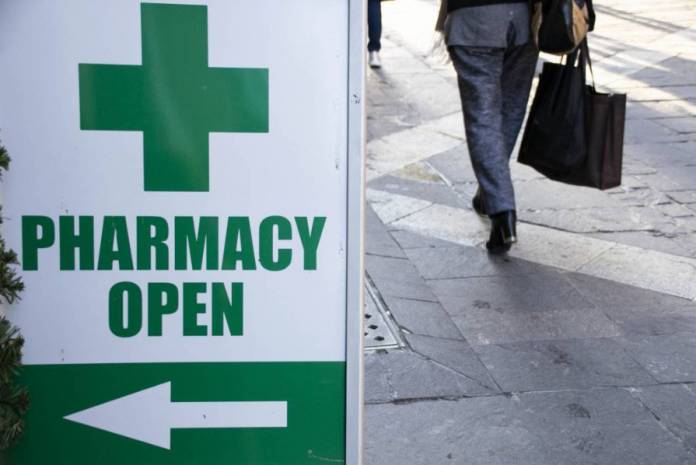 Tista' taqra bil- Malti.
Valletta, Floriana
Royal Pharmacy, 271, Triq ir-Repubblika, Valletta
21252396
Ħamrun, Marsa
St Gaetan Pharmacy, Triq il-Kappillan Mifsud, Ħamrun
21234570
Qormi, Santa Venera
Collis Williams St. Venera Pharmacy, 532, Triq il-Kbira San Ġużepp, Santa Venera
21238625
Birkirkara, Fleur-de-Lys
Collis Williams – St. Mark's Pharmacy, Triq P. Borg Olivier c/w Triq Gianni Vella, Swatar
21440790
Gżira, Msida, Ta' Xbiex, Pietà, Gwardamanġa
Deby's Pharmacy, 1, Misraħ il-Barrieri, Msida
21227920
San Ġwann, St Julians, Swieqi, Pembroke, Ta' Giorni, L-Ibraġ
St Julian's Pharmacy, 24, Triq G. Borg Olivier, St Julians
21369426
Sliema
Wales Pharmacy, 183, Triq Manwel Dimech, Sliema
21335492
Lija, Attard, Balzan
Il-Mehrież Pharmacy, 31, Triq Giovani Curmi,Iklin
21435567
Mosta, Naxxar, Għargħur, Mġarr
Tat-Tarġa Pharmacy, Plot no.2, Triq il-Kostituzzjoni, Mosta
21433141
Mellieħa, St Paul's Bay, Buġibba, Qawra
Remedies Pharmacy, 111, Triq George Borg Olivier, Mellieħa
21523462
Paola, Tarxien, Santa Luċija
Tarxien Pharmacy, 59, Triq Ħal Tarxien, Tarxien
21802986
Isla, Birgu, Bormla, Kalkara
Milia's Pharmacy, Triq il-Kottonera Birgu
27600126
Żabbar, Marsaskala, Fgura (PO)
Hompesch Pharmacy, 207/2011, Triq Hompesch, Fgura
21807503
Birżebbuġa, Għaxaq, Żejtun, Marsaxlokk, Gudja
Blossoms Pharmacy, Triq il-Gurgier, Birżebbuġa
21652226
Luqa, Mqabba, Żurrieq, Qrendi, Kirkop
Safi Pharmacy, St. John Street c/w Bieb il-Ġarra Street, Safi
21649552
Żebbuġ, Siġġiewi
Remedies Pharmacy, Peter Pan, Triq Nikola Zammit, Siġġiewi
21460828
Rabat, Dingli, Mtarfa
Nova Pharmacy, 142, Triq il-Kulleġġ, Rabat, Malta
21454274
Rabat (Victoria), Gozo
Abela Pharmacy, 42, Triq G.P.F. Agius De Soldanis, Victoria, Gozo
21556170
Other localities, Gozo
Sokkors Pharmacy, Triq San Girgor, Kerċem, Gozo
21553018
The airport pharmacy is also open. Please check re: opening hours. Tel no: 23694369.
Mobile Blood Donation
On Sunday 25 October 2020, the mobile blood donation unit will be available in St Catherine Street, next to Birżebbuġa Primary School, and at Xewkija Berġa from 8.30 am till 1.00 pm. If you feel healthy, kindly get your ID card and donate blood.
General Practitioners Service in Health Centres on Sundays and Public Holidays
The Mosta, Paola and Floriana Health centres are open for emergencies 24 hours seven days a week. The Gzira health centre is also open for emergencies (cases requiring urgent medical attention) between 8.00 am and 5.00 pm and a nursing service is available between 8.00 am and 8.00 pm on Sundays and public holidays. The public should attend the health centre of their catchment area. Persons without an identity card will not be attended to.