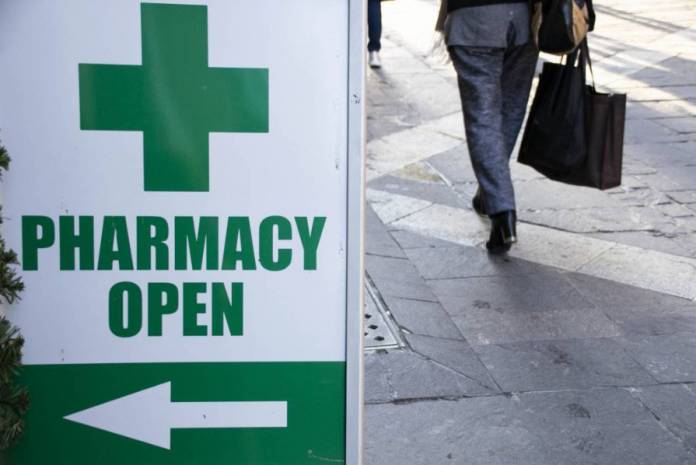 Tista' taqra bil- Malti.
Brought to you by Brown's Pharmacy
Valletta, Floriana
Collis Williams Pharmacy, 15, Triq ir-Repubblika, Valletta
2123 4567
Ħamrun, Marsa
Fra Diego Dispensary, 94, Triq Villambrosa, Ħamrun
21224898
Qormi, Santa Venera
Pinto Pharmacy, 43, Triq San Bastjan, Qormi
21487311
Birkirkara, Fleur-de-Lys
St Bartholomew Pharmacy, 30, Triq Fleur-De-Lys, Santa Venera
21482558
Gżira, Msida, Ta' Xbiex, Pietà, Gwardamanġa
St Anthony Pharmacy, 56, Triq San Ġużepp, Tal-Pieta
21237327
San Ġwann, St Julians, Swieqi, Pembroke, Ta' Giorni, L-Ibraġ
J.V.'s Pharmacy, Wied is-Swieqi, Swieqi
21371062
Sliema
The Economical Dispensary, 86/87, Triq Sir Adrian Dingli, Sliema
21330376
Lija, Attard, Balzan
St Michael Pharmacy, Misraħ tat-Transfigurazzjoni, Lija
21435875
Mosta, Naxxar, Għargħur, Mġarr
Victory Pharmacy, 16, Pjazza il-Vitorja, Naxxar
21412454
Mellieħa, St Paul's Bay, Buġibba, Qawra
St Paul's Bay Pharmacy, 504, Triq il-Kbira, St Paul's Bay
21575276
Paola, Tarxien, Santa Luċija
St Monica Pharmacy, 157, Triq Santa Monika, Paola
21665848
Isla, Birgu, Bormla, Kalkara
Victory Pharmacy, 32, Triq il-Vitorja, Isla
21801698
Żabbar, Marsaskala, Fgura (PO)
San Ġwakkin Pharmacy, 1 Triq Sant Anna, Marsaskala
21637994
Birżebbuġa, Għaxaq, Żejtun, Marsaxlokk, Gudja
Health Junction Pharmacy, Triq Alfred Cachia Zammit, Żejtun
21898728
Luqa, Mqabba, Żurrieq, Qrendi, Kirkop
Central Pharmacy, 6, Triq San Ġużepp, Luqa
21692546
Żebbuġ, Siġġiewi
Plaza Pharmacy, 86, Triq il-Kbira, Żebbuġ
21467459
Rabat, Dingli, Mtarfa
St Anthony Pharmacy, 18 Triq il-Kbira, Rabat, Malta
21454187
Rabat (Victoria), Gozo
Abela Pharmacy, 42, Triq G.P.F. Agius De Soldanis, Victoria, Gozo
21556170
Other localities, Gozo
Joyce's Pharmacy, Vjal it-8 ta' Settembru, Xagħra, Gozo
21561486
The airport pharmacy is also open. Please check with them re: their opening hours.
Mobile Blood Donation
On Sunday 24th May 2020, the mobile blood donation unit will be available in front of Safi Parish Church and in Xewkija Berġa from 8.30 am till 1.00 pm. If you feel healthy, kindly get your ID card and donate blood.